Known as Lago de la Santísima Trinidad under Spanish and Mexican governments, this bay was (more recently) to be the water playground for the would-be resort of Riviera Beach.

Sometimes known as Salt Lagoon, the three fingered bay is also the mouth of Los Olmos Creek.

The bay projects inland from Laguna Madre and the thin barrier provided by Padre Island. During the Civil War Confederate blockade runners sent cotton to Baghdad Mexico using Laguna Madre which was too shallow to allow Union pursuit. The south shore of Baffin Bay forms the northern boundary of the Kenedy Ranch.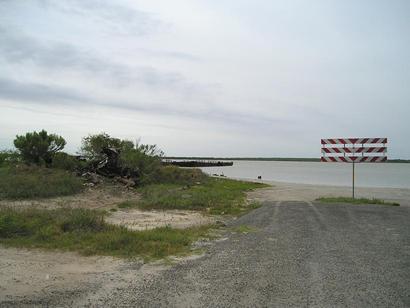 Photographer's Note:

This closed entrance to Baffin Bay is at the end of 1546. Take 77 south to 771 (Riviera) and turn left, then turn right on 1546.

This was a lonely little spot, a gray contrast to the bay so popular with fishermen and birdwatchers, but ideal for those of us who find beauty in junkpiles.

The Kaufer-Hubert Memorial Park County park (Loyola Beach) on Baffin Bay is ideal for fisherman and campers, and always filled with winter Texans. - Sarah Reveley