An old pecan orchard outside of Boling.
Photo courtesy Ken Rudine, 2008
History in a Pecan Shell

Once known as Floyd's Lane, Boling was renamed after the New York, Texas and Mexican Railway built through around 1900. The new name came from the middle name of Mary Bolling Vineyard, daughter of the man who platted the town. The name was misspelled when the post office was granted.

Although new settlers arrived after the railroad was built - the region was mostly made up of large tracts of land which had been former plantations. In 1907 Boling may have had a railroad connection, but the population was less than fifty with only the most basic businesses. That changed in the mid 1920s with the discovery of the huge oil, gas and sulfur deposits of the Boling Dome. The boom wasn't as big as the oil boomtowns of legend, but the population increased tenfold to nearly 500 by 1930 and reaching 800 during WWII.

In 1941 the Boling Independent School District was formed of Boling and the neighboring communities of Iago and Newgulf. The high school was in Boling, the junior high in Iago, and the elementary school was in Newgulf.

The population had dropped to a little over 500 in the early 1970s but by the early 90s it had grown to nearly 1,300. The Newgulf sulfur plant closed in late 1993 and the population for Boling-Iago was still 1,271 while Newgulf joined the list of Texas ghost towns.


Boling Texas Today: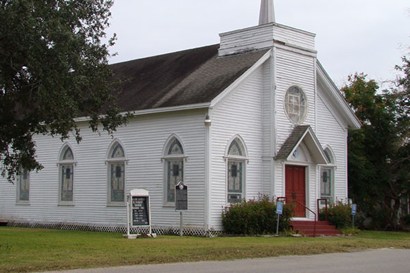 Boling United Methodist Church
Photo courtesy Ken Rudine, 2008
Most of the fireplugs are painted like dogs.
Photo courtesy Ken Rudine, 2008
"The water tank gauge shows the tank to be 3/4ths full. Gauge has a float in the water connected to a cable with a weight outside the tank indicating the water level."
- Ken Rudine, 2008 photo
More Texas Water Towers | Texas Towns
The town pump jack has Christmas lights on it.
Photo courtesy Ken Rudine, 2008
Boling, Texas Forum
Subject: Boling/Iago/Newgulf
My mother grew up in the Texas Gulf Sulfur company town of New Gulf ca. 1928-1944 and graduated from Boling High School. Her father and numerous relatives worked with TGS. As I recall she spoke of her first job as a teen with a Brockmann's Drygoods Store in the town.

My grandfather had a home in Iago for many years which is still standing on the main street parallel to the old railroad and current highway. Our family visited and even stayed there several stints in between venues from 1944-1955 in which I attended Iago Elementary for short times. We stayed in a homemade trailer house on the property among the pumpjacks and oil tanks. Granddad kept a milk cow which he stake-tied and grazed on the abundant grass along the tracks. One day tragedy hit when it got loose on the tracks and was hit by a train.

The one store in the fifties was on the corner, building still standing. For a prolonged period there was a Red Ryder BB gun in the window that I coveted and dreamed of having every visit. I saved every penny I could gather and earn to buy it when we returned again with constant fear it would be sold. Fortunately, it or one like it was there when finally I bought it on one of the visits.

I visited periodically Boling, Iago and the TGS ghost town and plant out of nostalgia over the years and recently retired back to the region. On Nov 23, 2015 on such a tour with a visiting relative we learned of the old Boling jail which I was unaware of over the many years and visited it. It was supposedly built in the pre-'20's and been recorded as a historic site. Hopefully it will be preserved as a Texas landmark eventually. It may be a worthwhile addition to your site on Boling. http://www.tinytexasjails.com/?page_id=618 - Wallace L. McKeehan, November 26, 2015


Subject: Boling/ Iago and Newgulf
Dear TE, I lived in Boling, Texas from 1952 - 1954 when I was about 10. There was no elementary school in Boling so we were either bussed to Iago or New Gulf. I went to Iago. At lunch time we were bussed to the high school in Boling. That was a fun time in my life. I have often wondered what changes have taken place in the last 50 years. My mother was a telephone operator in Boling and we actually (she and I) lived in the back of the telephone office. - Alma (Hudson) Waggoner, November 30, 2006
Texas Escapes, in its purpose to preserve historic, endangered and vanishing Texas, asks that anyone wishing to share their local history and vintage/historic photos, please contact us.
Custom Search