A neighborhood park near Cypress (Ravensway)
Photo Courtesy Tom Wells, November 2007
History in a Pecan Shell

It is said that the first inhabitants of what is know known as "Cypress-Fairbanks" were various tribes of Atakapan Indians who didn't survive contact with white settlers. In the 1840s German immigrants started settling alongside ranching Anglos along Cypress Creek.

The names of these pioneer families can still be found on street signs in the suburban neighborhoods, as well as a few cemeteries found deep inside subdivisions.

Other than residences, the first commercial building constructed was a dance hall in the late 1870s. Burned, but rebuilt, the establishment lasted for 100 years before progress caught up with it.

A one room school built in the mid 1880 eventually morphed into the Cypress-Fairbanks ISD, one of Texas' largest.

Cypress' first boom was in the early 1900s when oil was discovered nearby. Oil drillers tapped into a hot artesian well. The timing couldn't have been better. It was the era of spas and health resorts and soon the Houston Hotwell Sanitarium and Hotel were in operation, despite the dubious qualities of the water.

Dairy farming and rice cultivation drove Cypress' economy until postwar construction changed the area forever.

Even into the 1980s, Cypress remained unincorporated with a population less than 100. "Greater Cypress" grew exponentially as Houston roads and highways added lanes, building north and westward.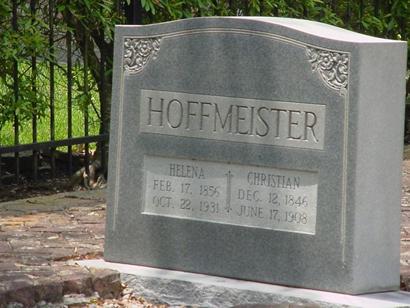 The Hoffmeister family cemetery sits among suburban lawns.
TE Photo June 2005
The family name (spelled Huffmeister) is a major area throughfare.
TE Photo June 2008
1920s Harris County map showing Cypress
(above 'H' in 'HARRIS') SE of Waller
Photo courtesy Texas General Land Office
---
Texas Escapes, in its purpose to preserve historic, endangered and vanishing Texas, asks that anyone wishing to share their local history, stories, landmarks and vintage/historic photos, please contact us.