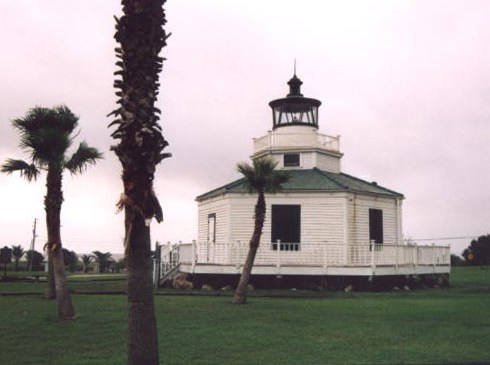 History in a Seashell

The town was founded after "The Great Comanche Raid" of 1840 when Comanche Indians swept down from the Hill Country and destroyed the tiny coastal town of Linnville. Only a marker remains today to mark the former town.

Former Linnvillain Thomas McConnell bought land from a De Leon's colonist and called the place Lavaca. The town succeeded in a short time, eclipsing the commerce that Linnville had seen before the raid.

Lavaca became county seat with the formation of Calhoun County in 1846.

In November of 1847 a stage line was inaugurated connecting the town to Victoria but by 1852 Indianola, with it's deepwater port became the Calhoun county seat.

By 1860 Lavaca's population was half of Indianola.

During the Civil War the city was bombarded by Union ships in late 1862, but did not surrender. In late 1863 it was occupied by Union troops. In 1864 an election gave county seat status back to Lavaca, but after the war it was returned to Indianola.

The hurricane of 1875 so damaged the railroad that Indianola, became the only area port with a railroad connection. By 1884 Lavaca's population was down to only 70 people.

But after Indianola was obliterated in the 1886 Hurricane, Lavaca's star began another ascent. Lavaca became the county seat again and railroad service was re-established.

Lavaca, now known as Port Lavaca, was shipping seafood and the railroad ran weekend excursions to the coast. Port Lavaca welcomed the seafood hungry tourists.

In 1920 a seawall was completed and in 1928 Port Lavaca shipped more shrimp than any other port in the U.S.

State Highway 35 was the only paved highway in the county in 1940 when the population was just over 2,000. Hurricane Carla damaged the causeway in 1961, forcing it to be converted into a fishing pier.
(See Texas Storms)

Port Lavaca Hotels > Book Your Hotel Here & Save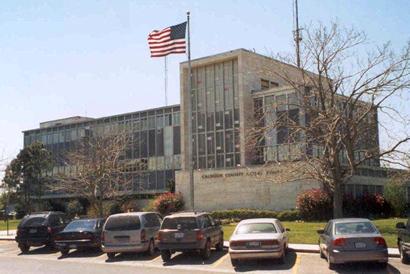 The former county jail was demolished after this photo was taken
TE photo, 2001
See Texas Jails
Entering Port Lavaca
TE photo, 2001
Shrimp boats in Port Lavaca
TE photo, 2001
Port Lavaca bay view
Postcard courtesy www.rootsweb.com/ %7Etxpstcrd/
Port Lavaca Chronicles
Exterminator by Mike Cox ("Texas Tales")
German immigrant J.C. Melcher of Fayette County and Port Lavaca and the Melcher family hardware store.
Port Lavaca Texas Forum
Subject: US Army Air Force Observer
During World War II my mother was a volunteer air plane watcher. She worked out of a tower overlooking Lavaca Bay. Most everyone I mention this to think I am crazy. I was about eight years old then and I remember the tower and the chart on the wall. If a plane flew over you had to find it on the chart and call it in. She was given a pin for service that is a small set of wings that has US Army Air Force Observer around the edge and in the center is AWS. Have you [or any of your readers] ever heard of this volunteer service or know where I can find out about it? - Doris Hinds, February 25, 2006

Texas Escapes, in its purpose to preserve historic, endangered and vanishing Texas, asks that anyone wishing to share their local history and vintage/historic photos of their town, please contact us.