TELFERNER, TEXAS
Victoria County, Texas Gulf Coast
U.S. Highway 59 and State Loop 175
8 Miles NE of Victoria
Population: 0700 (2000)
Welcome to Telferner
Photo courtesy Ken Rudine, May 2010
History in a Pecan Shell
Italian Count Joseph Telferner is the community's namesake. The Count was the president of the New York, Texas and Mexican Railroad which arrived here (completing the stretch between Victoria to Rosenberg) in 1882.

In 1892 a Well Fargo office opened and three years later the town was granted a post office. The town was known as Jasmine sometime before 1908 when it permanently became Telferner.

By 1914 the population had reached 102 residents that were served by five stores. Other early businesses included a cotton gin and a lumberyard.

The town's proximity to Victoria clearly affected its long-term growth and it remained under-populated for years. In the 1970s things started to pick up and from the mid 1980s through 1990, the town had increased to 304 residents. It reached 700 for the 2000 census.
A Visit to Telferner: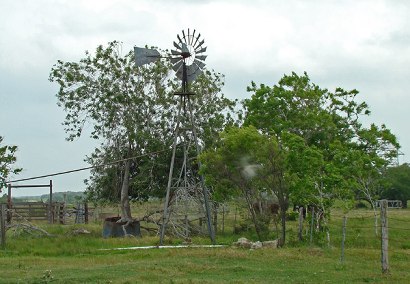 Telferner Entity
by Traveling Team Rudine

We often choose a destination and then select a route that includes an unreported town. Heading south on Highway 59 just before entering Victoria we turned into Telferner, our town reporting choice of the day.

Surveying the town the cemetery direction signs beckoned us. Upon arriving at the cemetery we found it was established in 1891.

The cemetery was well kept but after all those years appeared almost empty. The only exceptions were 3 or 4 scattered graves and a dozen graves in a row adjacent to the back border. It was certainly strange.

A marker that drew my attention was the all-alone obelisk. It was discolored with fungi and difficult to read. Meaningful to me was the inscription of Born 1838, Died 1902. Trying to make a legible photo I took several exposures while a gust of wind tried to remove my hat.
Telferner Cemetery
Photo courtesy Ken Rudine, May 2010
The obelisk photos made were as good as possible. Meanwhile in the car my wife sensed the need to photograph the windmill on the other side of the road. She signaled that to me and obediently I reset my camera, composed and shot. The wind was strong so I returned to the car to review the windmill photo and confirm to her the shot was taken.

I saw the "smudged area" close to the windmill center but I decided not to repeat the shot because I didn't know why she wanted it taken anyway. I got out of the car and made a gate shot instead.
Studying the windmill shot later I found the scene normal except the wispy image in the central area. I had set my camera like I do to shoot clear photos from our car while traveling at highway speeds. On this windswept day the camera froze the action of the rotating windmill blades but not the unnatural misty spot. If it were an ordinary object it would be frozen also.

This is what happened on our visit. Following overwhelming impulses the result is the camera captured an unexplained image. We do not know if Telferner is known for having a roaming entity. After this photo from there we believe it should be known for the paranormal.
- Ken Rudine, May 2010
Road Runner in traffic
Photo courtesy Ken Rudine, May 2010