---
---
---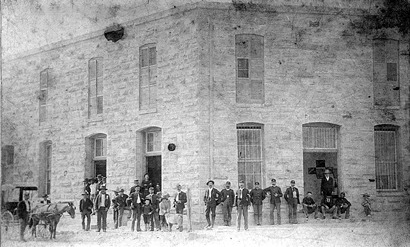 History in a Pecan Shell

In 1852, the town was named after Oscar Brackett who was a sutler to Fort Clark. The town started around his store around 1852 and was first called Brackett (as it is today by residents).

In 1875 when the town was granted a post office - the postal authorities assigned the ville to avoid confusion with another Brackett, Texas.

When Kinney County came into being in 1876, Brackettville became the county seat. The Galveston, Harrisburg and San Antonio Railway was heading toward Del Rio and bypassed Brackettville. This would've killed any other town, but Brackettville had Fort Clark for economic security. Spofford was the town who benefited from the railroad.

As Fort Clark's population increased, so did the standard of living in Brackettville.

A local quarry supplied limestone blocks for the building of permanent structures.

The years of 1878-1882 were particularly prosperous, although there was a flood in 1880 (and other in 1899). Although the railroad bypassed Brackettville, there was daily stagecoach service to Spofford - 10 miles South.

In 1896 the town had a population of 1,000 which doubled by 1926. A good part of the Brackettville population has historically been made up of the Seminole Indian Scouts. This is a group descended from an original 150 Black and Seminole Indians who were employed by the U.S. Army to scout around the border.

The town of Brackettville has a surprising amount of shade - especially along Hackberry Creek.


See Brackettville Chronicles >
Brackettville Landmarks/Attractions
---
A former Cavalry Post. Established in 1852, deactivated in 1947. Today "Fort Clark Springs", a private resort. The spacious spring-fed pool (Las Moras Springs) a majpr attraction. The museum and many well preserved buildings make it easy to imagine life here in the 1860s. The Post Theater remains as it was in 1946, the year the Post was decommissioned.

(See Fort Clark)
(See Swimming to Mexico, Part IV - Ft. Clark Springs)

Fort Clark Guardhouse Museum:
Displays includes artifacts from the Black Seminal Indain Scout and Buffalo soldier units. www.fortclark.com
---
The Kinney County Museum
TE photo, March 2002
Scenic Drives:
FM 674 North to Rocksprings - Winding road along steep cliffs and hills with views of West Nueces River.
FM 334 NE to Texas 55 intersection.


Kickapoo Cavern State Park ›
Approximately 22 miles north of Brackettville
Cannon in the square
TE photo, March 2002
More Bracketteville Limestone Architecture
Brackettville limestone house
TE photo, 1999
A doorway in Brackettville
TE photo
---
Texas Escapes, in its purpose to preserve historic, endangered and vanishing Texas, asks that anyone wishing to share their local history and vintage/historic photos, please contact us.