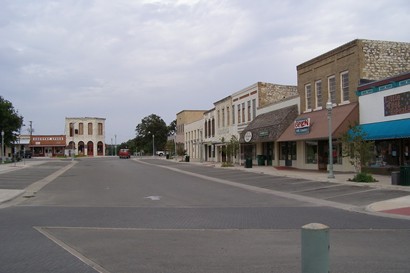 History in a Pecan Shell

Once named Hamilton after landowner John Hamilton, settlement began around 1849. Fort Croghan's presence provided security to the settlers. With the establishment of the county in 1852 Hamilton was made county seat, but that name was refused when the post office was applied for. Hamilton in Hamilton County had had the name for some time so the town settled instead for the name Burnet Courthouse.

A petition filed in 1857 sought a name shortening to just plain Burnet and the legislature made it law in 1858. In 1882 the Austin and Northwestern Railroad arrived and Burnet thrived as settlers in counties west of Burnet shipped their goods through the Burnet depot.

A narrow-gauge spur was set up in 1885 to bring granite to Burnet for finishing before being installed in Austin for the new Capitol. 31,000 tons of granite were excavated, moved, finished and shipped to Austin.

The railroad built on to Llano in 1892, and Burnet declined as Llano's star rose.

In April 1931 work began 10 miles west on what was originally to be called Hamilton Dam. The contracting corporation failed financially and work stopped until 1934 when the establishment of the Lower Colorado River Authority allowed completion of the renamed Buchanan Dam.


Burnet Landmarks >
Burnet Attractions >
Burnet Hotels >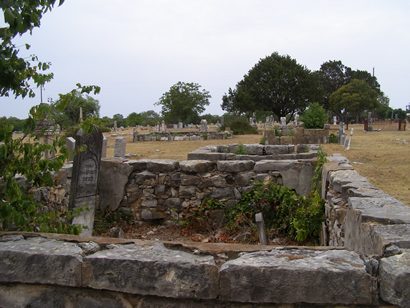 Burnet Texas Attractions
Black Rock Park - 18 miles west on Lake Buchanan
Burnet County Park - Fishing camp. Hwy 29 West, RM2341 North.
Fort Croghan Museum
Highland Lakes CAF Air Museum
Highland Lakes Golf Course
Hill Country Flyer -Two-hour steam train ride through scenic Hill Country to and from Cedar Park City Hall and Burnet.
Saturdays and Sundays. Fare. 512-477-8468.
Inks Lake National Fish Hatchery
Inks Lake State Park - 12 miles west
3630 Park Road 4 West Burnet TX 78611 512/793-2223

Longhorn Cavern State Park -
11 miles SW, US 281 and Park Road 4.
P.O. Box 732 Burnet, Texas 78611 1-877-441-CAVE 830/598-CAVE

Scenic Drive
Take Hwy 29 W to RM 2341 northwest, a scenic route to Spider Mountain overlooking Lake Buchanan

Annual Event
Annual Bluebonnet Festival - Second weekend in April

Burnet Tourist Information
Burnet Chamber of Commerce - 512-756-4297
www.burnetchamber.org
Wildflowers in Burnet County
Photo courtesy Ernie Wymer, May 2007
Burnet Texas Forum
Subject: Waldine Tauch
I read with interest your article on Waldine Tauch and her father. Thank you for this. However, I would point out that seven Tauch pieces are part of our collection, including the original plasters from which the bronzes were cast for the Texas Ranger, Pippa Passes, Higher Education, and Buckner Group. Tauch had a special relationship with Panhandle-Plains as she also left twelve Pompeo Coppini pieces to PPHM as well. You might add Canyon and Burnet (Buckner Children's Home) to the places one can see her work. Keep up the good work about Texas. - Respectfully, Michael R. Grauer, Curator of Art Panhandle-Plains Historical Museum, Canyon, Texas, September 23, 2005
Texas Escapes, in its purpose to preserve historic, endangered and vanishing Texas, asks that anyone wishing to share their local history and vintage/historic photos, please contact us.
Custom Search