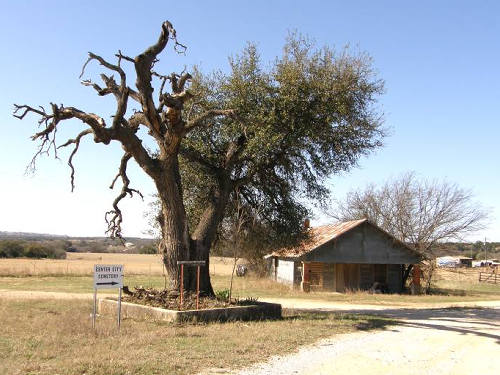 History in a Pecan Shell

Settled about 1870 as Hughes Store, when Mills county was organized, the town optimistically designed their town square with a big empty space for the courthouse. When Goldthwaite was designated the county seat, they had to draw straws to decide who would ride over to Hughes Store and break the bad news.

Even without a courthouse, businesses sprang up around the empty town square. By 1874 the town had a post office, gristmill, school and all the businesses essential for a growing town.


"Heart of Texas Oak"
In the 1870s it was announced that the town was at the exact geographic center of Texas and that a tree was growing at the exact spot.

This would more than make up for not being declared county seat! But the tree was threatened by highway construction. The townspeople weren't about to lose their second chance at fame. They stood up to the chain saws and the "Heart of Texas Oak" stands today, fifty feet from the highway that moved. The story of the tree and a photo (circa 1970) can be seen in Famous Trees of Texas - available in most libraries.

By 1885 the town had a population of 100 and although it lost its mail service in the 1920s, there were still seventy-five people in town by 1940. From 1970 through 2003 the town has had an estimated fifteen people.

See 1907 Mills County Postal Map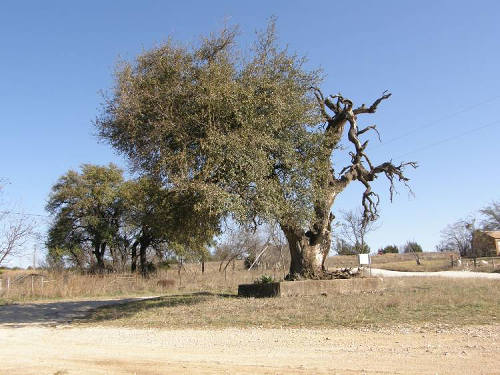 Historical Marker Text
Center City Community
Settled in 1864 by the families of William Jenkins and David Morris (1811-89), this community was called "Hughes Store" after W. C. Hughes and his wife opened a store here in the 1870s. They platted a townsite in 1876, hoping to attract the railroad and to become county seat. An ancient live oak (100 yds. S), by tradition once considered the center of Texas, was site of temporary court and school sessions and religious services. Renamed "Center City", this thriving town boasted several stores and businesses until the railroad bypassed it in 1885. The post office remained until 1920.
(1977)
Center City Cemetery since 1874
"Beneath Every Tombstone Lies a Story"
Photo courtesy Barclay Gibson, 2009
Center City Cemetery historical marker
Photo courtesy Barclay Gibson, 2009
Historical Marker Text
Center City Cemetery
The Center City Cemetery began with the burials in 1874 of Julia M. Bishop and M. E. Hughes, the adult and infant daughters of W. C. and Caroline Hughes, early settlers of this area. Judge L. E. Patterson purchased 2.5 acres containing the Hughes burials in 1905 for use as a community graveyard. Concern for its upkeep prompted the establishment of a cemetery committee in 1951. A $1000 gift to the cemetery in J. M. Dalton's will in 1967 helped establish a maintenance fund. The more than 500 burials recorded here include those of many of this area's earliest settlers.
(1993)
1907 Mills County Postal map showing Center City
(Below "S" in "M-I-L-L-S", near Hamilton County line)
Courtesy Texas General Lands Office
Center City Forum

Subject: Center City, Texas
From what I understand and also from some notes I have, my gg grandparents were some of the very first settlers in Center City. My g-grandmother was born in Center City in 1877. Their last name was Morris and they were from Indiana. - Patricia Woods, May 09, 2005


Texas Escapes, in its purpose to preserve historic, endangered and vanishing Texas, asks that anyone wishing to share their local history and vintage/historic photos of their town, please contact us.

Books featuring Center City, Texas