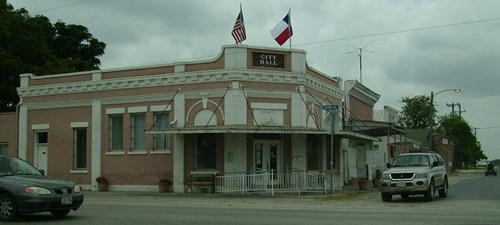 History in a Pecan Shell

La Coste was originally known as Fernando when a post office was granted under that name in 1893. Three years later the town still had a modest population of 25. But they did have a daily stage to Castroville - and two saloons for those waiting for or who had missed the stage.

In 1898, the post office name was changed to honor Jean B. LaCoste, a Frenchman who was also a big wheel in San Antonio.

Our Lady of Grace Catholic Church was constructed in 1912 and two years later the town had grown to 400 people. The town's thriving economy was due to the railroad connection and the cotton, corn, and pecans that it sent out on the Southern Pacific.

Half of the population claimed Alsatian ancestry and while it wasn't one of the original colonies of Henri Castro, the figure is probably correct. Cotton and corn crops were irrigated from Medina Lake by a canal system. La Coste didn't incorporate until 1969 at which time the population was nearly 500. In the late 1980s the population was nearly 1,000 which has since increased to the present 1,255.
Pedestrian traffic in downtown La Coste
Photo courtesy Sarah Reveley, January 2006
Waiting for the train in La Coste
Photo courtesy Sarah Reveley, January 2006
Tombstone repaired with a tomato juice can
Photo courtesy Sarah Reveley, January 2006