---
History in a Pecan Shell
Empresario Henri Castro had been granted permission from the Republic of Texas to recruit European settlers and populate the area around the Medina River.

Alsace is seldom mentioned without her sister-province of Lorraine, but here the emphasis is on Alsace and Alsatians alone.

Henri's travels took him away from his Texas "home" frequently and he's not buried in the town named after him - but his wife Amelia is. His former home with its neat-as-a-pin appearance is typical of the majority of homes in Castroville.
---
Former Magnolia Gas Station
TE photo
A simple brick building c. 1910
TE photo
Castroville Town Square & Walking Tour
Castroville was the original County Seat of Medina County and the former courthouse now serves as city offices.
See "First County Courthouse" Historical Marker.

The greenery on either side of the walk are fine, healthy specimens of Texas Mountain Laurel and we regret our photo doesn't show them in bloom.

The spacious and uncrowded Castroville "town square" is more reminiscent of a Mexican Plaza. Follow signs for a walking tour of Historic Castroville.

Several excellent restaurants are within walking distance and the unhurried mood of Castroville is bolstered by the attitude of the restaurant's management. These are restaurants for conversation and enjoyment.

The Moye Retreat Center now occupies the grounds and buildings of a former convent that also became a boy's military academy during the 1940s and 50s.
A building of the former Military Academy
TE photo
---
First Medina County courthouse Historical Marker:

First County Courthouse

Erected 1854; first permanent courthouse in Castroville, the first seat (1848-1892) of Medina County. When built, structure was on old road to San Antonio.

This building took place of temporary office space which County Court had used 6 years. It was built by Joseph Burger and has 18-inch-thick walls of native limestone.

Additions to original building include one-story wings on both sides and outside staircase to the second floor.

After Hondo became County Seat this building was used as a school; now houses City Hall.
1968
---
Historical Marker on Houston Square, Castroville
Alsatians of Texas
In 1842, Empresario Henry Castro brought his first colonists to Texas to settle land west of the Medina River. Most of the immigrants were from the Rhine River area of Europe. Many claimed the province of Alsace, on the border of France and Germany, as their homeland. The Alsatian colonists brought with them their combined French and German heritage, which has left a distinctive mark on this area of the state.

In 1844, Castro laid out a townsite, which the settlers chose to name Castroville. It became the center of Alsatian culture in Texas. The houses, European in style, are primarily single-story dwellings of cut limestone, mortared with adobe, and white-washed. Over the years, farming has been the major occupation of people in the area, as it was in Alsace. The Alsatian immigrants and their descendants have made a distinct impression on area politics, holiday customs, cusine, and religion. Winemaking, using grapes grown along the Medina River, is another early tradition that has continued over the years. The history of Alsatians in Texas is a reflection of ethnic and cultural diversity in the state's rich heritage.
(1985)
---
Historical Marker on September Square, Castroville

Henri Castro
Henri Castro, a native of Bayonne, France, and the descendant of Portuguese nobility, served briefly in Napoleon's French Army. In 1813 he married Marie Amelia Mathias. He later immigrated to the United States and in 1827 became a naturalized U.S. Citizen. He returned to France in 1838 and joined the banking house of Lafitte and Company. While there he helped negotiate a loan for the Republic of Texas for which a grateful President Sam Houston later appointed him Texas' General Consul in Paris. Between 1843 and 1847 Castro administered, as Empresario, the settlement of at least 2,134 European colonists in this area. Castro eventually exhausted his own personal wealth to sustain his colonial effort. His extraordinary dedication to his colonists has led many to compare him favorably to the legendary Stephen F. Austin. Henri and Marie lived in Castroville with their four foster children. By 1860, however, the family was living in San Antonio. Henri and his son, Lorrenzo, traveled to Eagle Pass to run a family mercantile business. On his way to France in 1865, Castro was diverted to Monterrey, Mexico, where he became ill and died. He was buried in Monterrey in 1865. In 1876 the newly created Castro County, Texas, was named for Henri Castro.
1994
Henri Castro's former residence in Castroville
TE photo
Historical Marker on 1107 Fiorella Street, Castroville

Site of the Homestead of Henri Castro

Henri Castro (1786-1861), a naturalized American of French origin, befriended the Republic of Texas and became interested in settling here. In 1842 he was given authority to establish a colony of Europeans in Southwest Texas. He succeeded in obtaining some land here on the Medina, from a 1766 grant made by Chares III of Spain. He recruited 485 families and 457 single men, mostly Alsatians. Using his personal wealth, he cared for the colonists as though they were his children. In 1844 he had the Castroville townsite platted, reserving as his homestead this block next to the courthouse site, in the center of town. He erected a stone dwelling and outbuildings, and planted an experimental garden, to discover crops suited to the locality. Bringing his wife Amelia (Mathias) and their four foster children from France, he lived here permanently. As a moral obligation, he continued to direct the state affairs for his colony, although it had impoverished him. On the eve of a trip abroad when the Civil War was beginning (1861), Castro and his wife deeded the homestead to their adopted son, Lorenzo. Castro died at Monterrey, Mexico, soon afterward, and was buried there. Lorenzo sold the homestead in 1872.
1978
---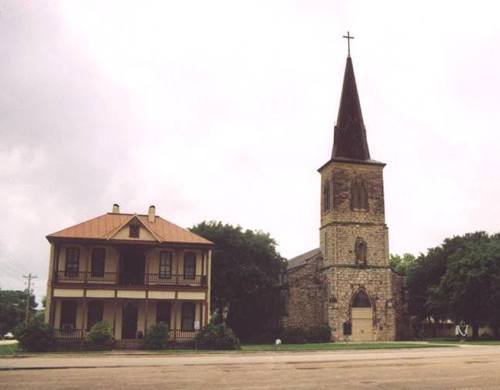 ---
Landmark Inn

Recorded Texas Historic Landmark

Right "downtown" at Hwy 90 and the traffic light at Florence Street. A former stagecoach stop, the Landmark Inn still accepts guests today.

The restoration is complete - but the interiors only back to the 1940s. The attention to detail even went so far as to track down the original linoleum pattern, which was found in Europe.

Address: 402 East Florence Street, Castroville 78009
Phone: (830) 931-2133
Operated by the Texas Historical Commission since January 1, 2008.
No longer a part of the State Park system.
Historical Marker Text

Landmark Inn

Built as a one-story home and store, about 1844, by French settler Caesar Monad. Later became Vance Inn, after top floor and bath house were added, to accommodate travelers. Civil War bullets were made of lead lining peeled off a room of the bath house, in 1860's. After 1927, Jordan T. Lawler and his sister, Ruth Lawler, natives of New Orleans, La., owned and restored inn.
Recorded Texas Historic Landmark, 1965.
---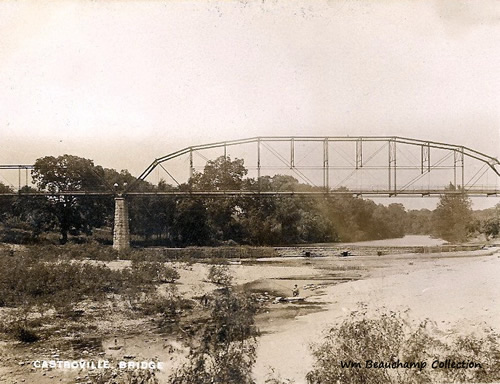 Medina River & Castroville Regional Park
Castroville has a spacious park (Castroville Regional Park) along the picturesque banks of the Medina River. Facilities include RV hookups and a pool. Follow the conveniently posted signs and enjoy the houses along the way.

Government Canyon State Natural Area
12861 Galm Rd San Antonio TX 78254 210/688-9055
http://www.tpwd.state.tx.us/

Medina Lake - North of Castroville
http://www.tpwd.state.tx.us/


Castroville Tourist Information
Castroville Area Chamber of Commerce
P. O. Box 572 · 802 London St. Castroville, Texas 78009
830-538-3142 or 800-778-6775 email: chamber@castroville.com
Website: http://www.castroville.com/Chamber/chamber.htm
---
Early Settler's Story:

Hard Times on the Medina
(From Mike Cox's Texas Tales column)

"The family settled on the Medina River, six miles upstream from Castroville. Their cabin stood on a small hill. They had "a large square yard" in front of the house, with a storehouse behind for their chickens, corn and wagon.

"The country here is very beautiful and romantic," Fritz wrote. "The Medina flows by 400 steps to the right of the house, a fast-flowing, crystal clear stream, larger than the Main by Bayreuth….The banks…are grown up with huge cypress, pecans, sycamore, mulberry, wild grapes and many other kinds of woods."

That largely untouched habitat supported a robust wildlife population, from "wild doves and field chickens [quail]" to wild turkey and whitetail deer. Of the latter, he wrote, "you don't shoot at one at less than 125 steps, one must be able to shoot at 150 steps."

He and his brother had already done a lot of hunting, especially for squirrel since they competed with his family for pecans." Read full artcle
---
Texas Escapes, in its purpose to preserve historic, endangered and vanishing Texas, asks that anyone wishing to share their local history, stories, landmarks and recent or vintage photos, please contact us.