Main street (Swenson Avenue) buildings in Stamford.
Photo courtesy Terry Jeanson, September 2007
History in a Pecan Shell

A Texas Central Railroad executive named the town after hometown in Connecticut. The town dates from 1899 when a railroad boxcar was put on a siding and served as the community's first post office. In 10 short years the town swelled to almost 4,000 people.

Stamford's importance was cemented in place by a flour mill that was in operation from 1906 until it burned in the mid 1940s.

Stamford had a railroad roundhouse and shops as well as a cottonseed oil refinery, brick yards and a foundry.

In 1907 the Methodist church opened the Stamford Collegiate Institution (which later became Stamford College). After a fire in 1918 and decreased enrollment due to WWI, the college closed in 1920 as McMurry College was opening in Abilene.

During WWII a private school for military pilots opened at Arledge Field. The town has been hosting The Texas Cowboy Reunion every 4th of July since 1930.

Rodeos are held just west of town adjacent to the Swenson Ranch. The Cowboy Country Museum was founded in the 1970s.

The population of Stamford has remained over 4,000 from the 40s through the 80s when it entered a slight decline. It fell to 3,817 for 1990 and then to 3,636 for the 2000 census.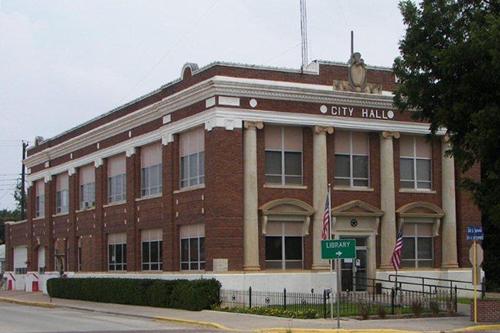 The St. John's Methodist Church, built in 1910, has a one-hundred foot tower and was, for many years, the tallest church between El Paso and Dallas.
Photo courtesy Terry Jeanson, September 2007
Another view of the St. John's Methodist Church in Stamford
Photo courtesy Barclay Gibson, 2004
The First Baptist Church on Swenson Avenue was built between 1908 and 1909.
Photo courtesy Terry Jeanson, September 2007
The Swenson Land and Cattle Company established its headquarters in Stamford in 1927.
Photo courtesy Terry Jeanson, September 2007
More Stamford main street scene
Photo courtesy Terry Jeanson, September 2007