---
---
---
SPUR, TEXAS
Dickens County, Panhandle / West Texas

33°28'40"N 100°51'25"W (33.477650, -100.857018)
Highway 70
11 miles S of Dickens
26 miles NW of Jayton
60 miles E of Lubbock
Population: 1,318 (2010) 1,088 (2000) 1,300 (1990)

Spur, Texas Area Hotels > Lubbock Hotels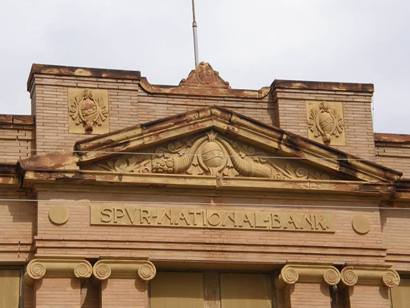 Photographer's Note:
There is more to Spur than meets the eye. Even its abandoned buildings are stately. The collapsed roofs have been removed and the trash cleaned out from inside. The shells still stand in their elegance of the past. Very interesting. - Barclay Gibson


History in a Pecan Shell

The name is from the Spur Ranch, which was bought and broken up in 1907 - shortly before the Burlington Railroad had proposed a railway line from Stamford. The manager of the Spur interests (the town's name had already been chosen) convinced the railroad it needed to go through what would become Spur. The railroad was convinced and on November 1, 1909 - the town opened as the railroad pulled in.

The Spur Inn housed visitors to the town and the first newspaper, The Texas Spur gave them something to read. The school was started in 1909 as well, but the town didn't incorporate until 1911.

Spur had 47 businesses in 1980 which is considerably less than the 110 reported in 1940. Texas A&M University operates an agricultural experimental station at Spur. It is the largest town in the county - eclipsing the county seat of Dickens with it's population of 300.
"The hotel was owned and run by my grandparents. My grandfather was Dr. R. L Alexander. He was the country doctor for all of that area. One of his son's, Dr. Bob Alexander also practiced in Spur for many years until his death. In all, the Alexanders had 8 children. 7 boys and 1 girl. Three of the sons were physicians. One son was the postmaster in nearby Jayton. Dr. Alexander's clinic was located directly across the street from the hotel. Just thought you might be interested in a little background of the building and Spur." - Mike Alexander

More "Rooms with a Past"
Dixie Dog Borden's Ice Cream Neon Sign
Jimmy Dobson Photo, June 2017
---
Mackenzie Trail by Clay Coppedge

"The best of what's left of the Mackenzie Trail today is probably on private property. You're near it when you're at the intersection of U.S. 277 and Texas 6 in Stamford, where a monument tells you the trail ran a little north of there. The trail also ran between Dickens and Spur, so when you're on parts of U.S. Highway 82 from Dickens to Lubbock you're probably following Mackenzie's path pretty closely." - Read full article
---
Texas Escapes, in its purpose to preserve historic, endangered and vanishing Texas, asks that anyone wishing to share their local history and vintage/historic photos, please contact us.
---