History in a Pecan Shell
In 1900, Steve Stevens, a conductor on the Chicago, Rock Island and Gulf railroad was honored by having the town named after him.

The town developed slowly and prior to the first school being built in 1910, students were taught in the railroad section house. George Brady was the school's benefactor.

A general store was soon built, and a grain elevator was constructed in 1920. It took another nine years before a post office was granted. The Stevens school merged with Stratford schools in 1940.

The population was estimated at a mere 40 residents throughout the 1940s. The improvements on highway 54 were instrumental in depopulating the town and in 1943 the post office was closed.

The combination store and gas station closed a short time later, making Stevens a ghost town – with only the grain elevator to mark the site.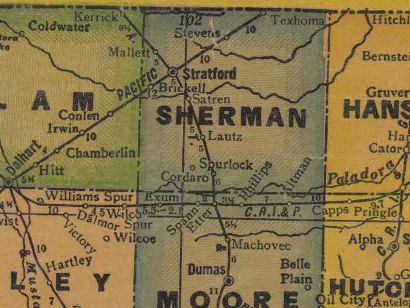 Texas Escapes, in its purpose to preserve historic, endangered and vanishing Texas, asks that anyone wishing to share their local history and vintage/historic photos, please contact us.
Custom Search