History in a Pecan Shell
Named for ranch owner D. D. Swearingen, the town come into being around 1908 as headquarters for the OX Ranch.

A post office went into operation in 1898 and the postmaster George W. Hare bought most of the lots put up for sale. He then established a drugstore, figuring to capture the Ranch trade. His plan paid off and both Hare and the town prospered.

By 1911 Swearingen had the post office, a bank, a livery, a hardware store, a lumberyard, several stores and a hotel. A school shared space with a church until a separate schoolhouse could be built (1913). That year was a busy one for the town. It became a shipping point on the new Quanah, Acme and Pacific Railroad and suffered two considerable fires.

The OX Ranch desolved in 1930 and the town declined in kind. By 1940 there was only one business to serve the remaining 115 people who lived there.

The post office closed in 1954 and by 1970 only a few houses remained.

A cemetery remains and is shown on detailed county maps, although it appears with no name.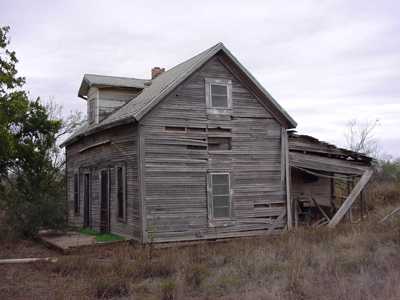 Swearingen, Texas Forum
Subject: Swearingen, TX
The farmhouse shown on your website belonged to my grandparents – John Tannahill and Nora Stockton Tannahill. And my sister and I grew up going to that house as a weekend getaway from our home in Wichita Falls, TX. It never did have running water – but did get electricity. We also had butane. Our mother, Laura Tannahill Doing, often talked about how the school teacher would live in one of the downstairs rooms of the house. John Tannahill was a ranch manager and also had the grocery store in Swearingen. Nora Stockton Tannahill taught piano – there's mention in the book about the QA&P railroad coming to Swearingen about my grandmother bringing her piano with her as a young bride. It's an old upright Adam Schaff that sits in my living room in Atlanta, GA today. My great aunt – Thena Stockton Evans – was also the postmistress in Swearingen in later years. My mother had one brother, John Tannahill, a wonderfully gifted artist who was a pilot of a B-17 Flying Fortress and was killed in January, 1944. Mother graduated from Paducah High School (as did her brother), and also worked at times for the Paducah Post. During the years she was in college at TWU (Texas State College for Women), my grandmother went back to teaching school as it was during the Depression. I was glad to find your information. Mother passed away November 16, and I'm trying to get information to the Paducah Post. Do you have any contact information for them? - Thanks, Larrie Doing Kontz, Atlanta, GA, December 07, 2006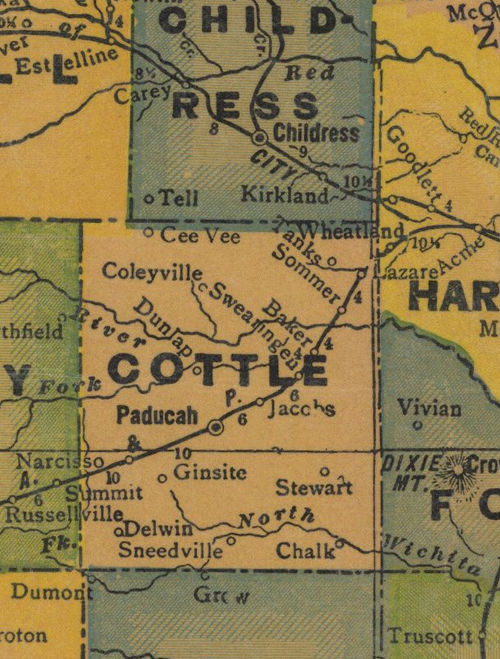 Cottle County 1940s map showing Swearingen
From Texas state map #4335
Courtesy Texas General Land Office
---
Texas Escapes, in its purpose to preserve historic, endangered and vanishing Texas, asks that anyone wishing to share their local history, stories, landmarks and vintage/historic photos, please contact us.