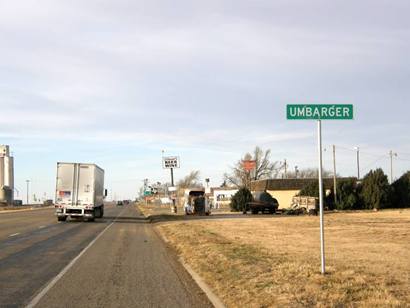 History in a Pecan Shell

The town got its start in the mid 1890s when rancher S. G. Umbarger leased land here from the railroad (the Houston and Great Northern). He liked it so much he bought it two years later and opened several business to cater to freshly arrived settlers.

The Panhandle and Santa Fe Railway established a switch near Umbarger's ranch in 1898. Umbarger (the man) sold out and moved away to Canyon, Texas, but since that was a mere 10 miles away, his name remained solidly in place.

In 1902 a small group of German Catholics transmigrated from Fayette County, adding much-needed growth. A general store/ post office opened and a school district was established in 1904.

Between 1902 and 1910 Father Joseph Reisdorff, a Catholic missionary, worked hard to attract other German Catholic settlers. Friction developed between Father Reisdorff and John Hutson, another town founder and as a result, the town had two separate Catholic churches built. The population was bolstered somewhat by Swiss immigrants who settled here from 1911 through the 1920s but the town remained under-populated. From 18 residents in 1920, and only 80 by 1930, it reached 150 on the eve of WWII.

The town's proximity to Canyon and Amarillo may have helped Umbarger survive, but it may also have affected its growth. The 1984 population was given as 327 – the same number used on the 2008 state map.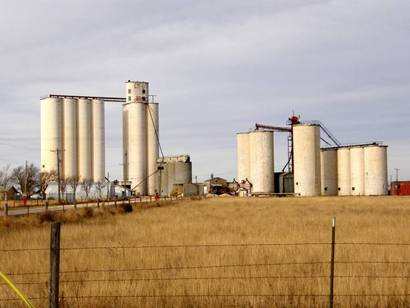 St. Mary's Catholic Church in Umbarger
Photographer's Note:
A lady at the St Mary's church in Umbarger was so kind to show me around the church and explain the work done by the Italian Prisoners. In the large painting behind the altar was an angel. The artist, from his memory of his wife, painted her face on the angel. Years later after the war the artist brought his family back and she was able to see her face on the angel. - Barclay Gibson, January 25, 2009

Visit nearby Italian POW Camp Chapel 3 1/2 Miles S of Hereford
Photo of WWII Italian POWs and priests in Umbarger displayed in the church. Photo courtesy Barclay Gibson, December 2008