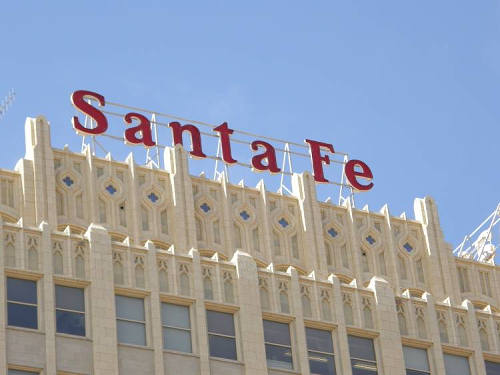 History in a Pecan Shell

The railroad (Fort Worth and Denver City) was coming through the Panhandle in 1887 and merchants from Colorado City wanted to establish stores at a logical stop. Since they needed voters to choose the county seat and most of the voters were ranch hands of the LX Ranch, the promoters promised them each a residential and business lot to vote for Oneida. Not surprisingly Oneida won and was promptly renamed Amarillo.

The first houses in town were actually painted yellow in honor of the new name and perhaps in guilt for mispronouncing the Spanish word.

A rancher named Sanborn bought land on the other side of the tracks because of its elevation and convinced others to move their businesses there as well. Actually, rains and the subsequent flooding did most of the convincing. This was the beginning of Polk Street, the city's main commercial boulevard.

The city grew steadily, adding an Opera House in 1909 and a library in 1910. Helium discoveries in the late 1920s and the establishment of an Army AirField, led commercial growth until the depression arrived. Because the city was the focal point of government programs during the depression, the city's infrastructure benefited greatly from the Work Projects Administration. (See Thompson Park)

Amarillo grew 85% in the decade of 1950-1960, from 74,000 to 138,000. The population in 1980 was 149,000 and in 1990 it was 158,000. The 2000 Official Highway Map shows the population to be 168,562.

Amarillo Hotels > Book Here
Historical Marker
Location: 600 South Buchanan Street, Civic Center courtyard

AMARILLO
Named for Arroyo Amarillo, nearby creek given its designation by Spaniards in early days. In 1887, when the Fort Worth and Denver City Railroad was building through this region, a group represented by J. T. Berry platted the town (1 Mi. W.). The founders were merchants of Colorado City (250 Mi. SE), establishing convenient trade facilities for their South Plains customers. Later (Aug. 30) that year, Potter County was organized and Amarillo was chosen county seat by 38 LX and 15 Frying Pan cowboys as electors. In 1889 heavy rains and other inducements were factors influencing residents to move to this new townsite addition promoted by J. F. Glidden and H. B. Sanborn, owners of the Frying Pan Ranch (headquarters 16 Mi. W). In 1892 Glidden traded his interest in the city for Sanborn's interest in the ranch. In the years 1892-1897, Amarillo was the largest rural shipping point for cattle in the nation. When a rail line to serve the South Plains was proposed, Amarillo and Washburn (15 Mi. SE) were rivals for the junction. Amarillo won, through efforts of city developer Sanborn. When construction began in 1898, Amarillo's future was assured: it was to be the commercial center of the Texas Panhandle.
Recorded Texas Historic Landmark (1970)
Amarillo Landmarks / Attractions / Images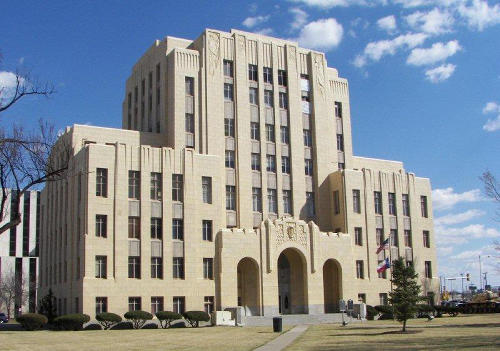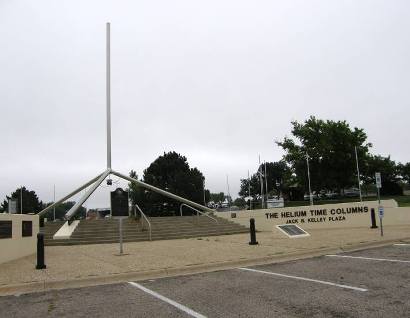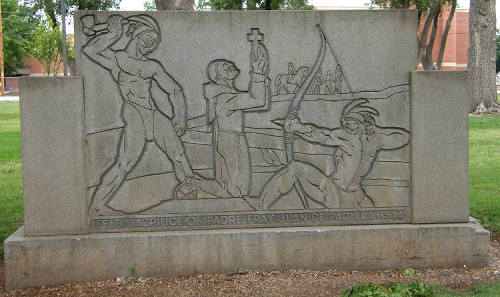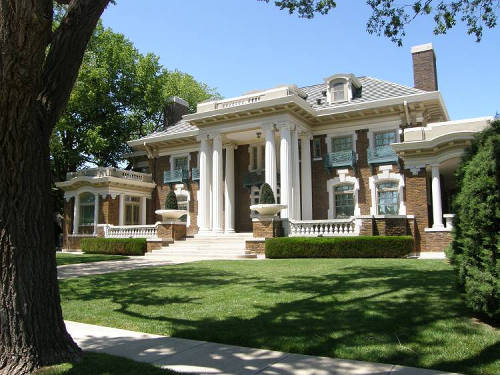 Harrington House :
One of Amarillo's early and elegant homes (1914) at 1600 Polk Street. Free tours on Tuesday and Thursday mornings, April to December. Advance arrangements required. 806-374-5490.
The American Quarter Horse Hall of Fame & Museum :
A hidden gem of Western art in the Texas Panhandle. The moment you approach, you are greeted by the beautiful, larger-than-life bronze statues of history-making American Quarter Horses Rugged Lark and Refrigerator. Visitors can spend time reflecting outside at the newly renovated Wall of Honor Plaza, honoring and memorializing the horses and people who've paved the way for the American Quarter Horse. The Wall of Honor welcomes visitors to the Hall of Fame from two unique perspectives. From the east, a light sculpture displays a herd of running American Quarter Horses; from the west, granite bricks preserve and pay tribute to the people and horses meaningful to generous donors. www.quarterhorsemuseum.com

English Field Air and Space Museum :
A project of the Texas Aviation Historical Society, Inc. For directions and information telephone 806-335-1812.
Amarillo Hotels
> Book Here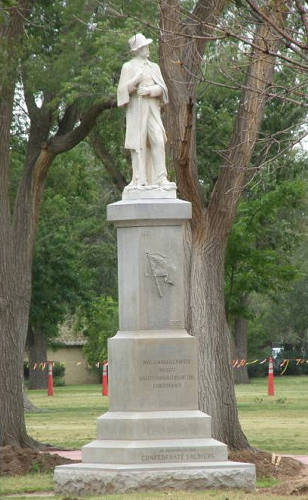 Amarillo Nearby Destinations:
McClellan Reservoir
50 miles east of Amarillo on McClellan Creek, Red River tributary
http://www.tpwd.state.tx.us

Amarillo Travel & Tourists Information
Texas Travel Information Center on I-40 / U.S. 287 just east of Amarillo. Operated by the Texas Department of Transportation.

Amarillo Convention & Visitor Council
1000 S. Polk Street, Amarillo, Texas 79101
806-373-7800

Amarillo Hotels > Book Here
Amarillo Texas Polk Street Trolleys
Photo courtesy texasoldphotos.com
People


Eck Robertson by Clay Coppedge
Of the pioneer types who helped establish a standard for Texas fiddle playing, Eck Robertson deserves the most credit. Robertson, who grew up near Amarillo in the late 1800s came from a family of fiddlers...


Tex Thornton: King of the oilfield firefighters and rainmaker by Clay Coppedge
The oil fields of the Texas Panhandle in the 1920s and '30s were a place where a man who knew how to use nitroglycerin could make a good living for himself. Ward A. "Tex" Thornton was such a man. He learned all about nitro when he went to work in 1913 for an Ohio company that manufactured torpedoes. He brought that knowledge along with a steady hand and no small degree of courage to the oil fields around Amarillo in 1920...
Amarillo Chronicles


Amarillo in thick of Dust Bowl by Delbert Trew
"Amarillo - The Story Of A Western Town" by Paul H. Carlson is a must read for old-timers and those who arrived later. Most who have lived in the Panhandle very long remember seeing or hearing of our most notorious history, but few know the little details of how and why the stories unfolded...


Parade honoring mothers-in-law drew thousands by Delbert Trew
First intended as a small local event to placate the offended, the celebration drew national attention when Will Rogers mentioned the upcoming celebration on his national radio show. Mothers-in-law from across the nation including first lady Eleanor Roosevelt sent greetings of varied nature...
Amarillo by Airmail by Mike Cox
With five cents in postage and an additional 20 cents for special delivery, the envelope had left the Panhandle shortly before 8 a.m. that day. The plane carrying it and airmail landed in Kansas City, where postal workers transferred the bag holding the letter to Bush to another plane. That aircraft reached the Windy City at 9:30 p.m. From the airport, the letter and others went by truck to the north side post office. When it arrived there, a carrier drove it to Bush's residence for delivery only 15 hours and 30 minnutes after it left Amarillo. While that is snail-like compared with email, it was incredibly fast for 1930, especially to the Bush brothers... more


Slow Times at Amarillo High by Mike Cox
When the seniors who would graduate from Amarillo High School in 1942 showed up for their first day of classes, they and all their underclassmates received an orange student handbook. The booklet ... included some things that would seem totaly bizarre to 12th graders today, like dating dos and don'ts...


Naked Came The Amarillan by Maggie Van Ostrand
I love Amarillo ... I never met so many good lookin', boot-wearin', city-shunnin', plain-talkin', fellas in my entire life as I did a few weeks back when I visited The Fair And Totally Underrated City of Amarillo In The County of Potter in the Republic of Texas... more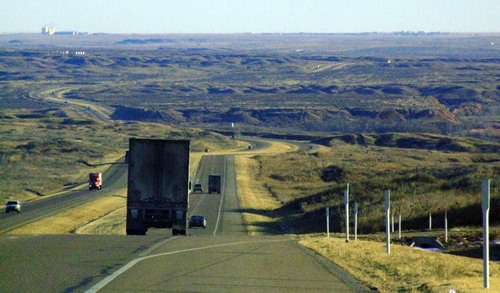 Subject: Canadian River

Photographer's Note:
These shots are of the Canadian River valley traveling from Dumas, Texas to Amarillo. You can see Amarillo on the far horizon (to the South). The river has carved its way through the otherwise flat plains in a million different channels. The road is U.S. 287/87 which is the main road from Texas through the Panhandle to Denver and other points North.

The Canadian River today is often just a small stream thanks to the many dams on the river and its tributaries in New Mexico, but even a short rainstorm can fill its banks.

The Canadian River is now an important recreation area for off-roaders, hikers, and hunters. To the east of these views, the river flows into Lake Meredith, which is an important source of drinking water and recreation. - Tom Jones, December 24, 2007

Amarillo Hotels > Book Here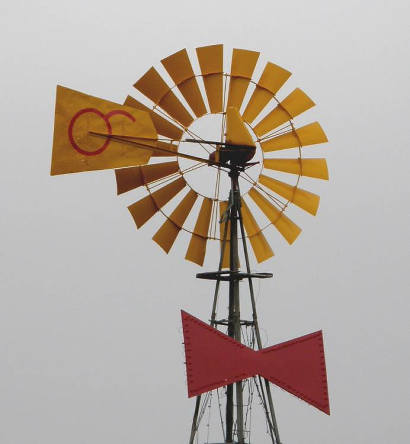 Texas Escapes, in its purpose to preserve historic, endangered and vanishing Texas, asks that anyone wishing to share their local history, stories, and vintage/historic photos, please contact us.
Custom Search
Book Hotel Here - Expedia Affiliate Network