Inside the old gym
TE Photo, September 2009
History in a Pecan Shell

First known as Coyote, Texas when settlement began in the early 1870s, the community was a mix of people looking for new beginnings. In the early 1890s this included a group of Norwegians who transmigrated from Bosque County.

A school district was established in the Spring of 1892 with classes beginning in 1895. District judge W. A. Gilliland became the town's namesake when the opening of a post office in 1907 demanded an official name. The first post office was in the home of O.M. Olsen.

Several neighboring schools merged with the Gilliland school and the present abandoned school appears to date from the 1930s. After WWII high school students attended class in Munday, while elementary classes continued in Gilliland.

In the mid 1920s the community's population was estimated to be a mere 50 residents, but shortly after WWII it was reported as 120. The population estimate remained at 103 from the early 1970s through the 1990 census, declining to 25 for the 2000 count.

Today the community consists of the ruins of the 1930 school, grain silos and a few former businesses being reclaimed by nature – although the community center is in good repair and still in use.

A Visit to Gilliland: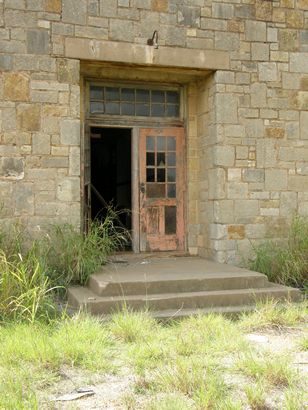 Visitors please check in with school office
TE Photo, September 2009
One method of discouraging cattle from attending classes
More Texas Schoolhouses
TE Photo, September 2009
More of dowtown Gilliland.
TE Photo, September 2009
More Texas Stores