History in a Pecan Shell

Calvin L. Jones and Benjamin H. Williamson (and families) are accepted as the first settlers here, dating the community to the early 1870s. The two men donated 20 acres each with sixteen acres reserved for school and church. The remainder of the land was made available to people who agreed to settle the site.

Jones is said to have named the town. A post office was granted in 1879 and the year 1900 showed a modest population of 75 residents served by the most basic of businesses.

Although it was bypassed by the railroad, Bono throve until the onset of the Great Depression. The population remained under 100 through the 30s but by 1940 the post office closed and the population decreased.

The early 1970s showed a community building, Baptist Church and cemetery. Further information is not currently available.
Bono, Texas Forum
Subject: Bono, Texas
Dear Editor, I found your site while "surfing the web" tonight.

I have a strong family tie to Bono. My great-grandfather, Benjamin H. Williamson, was one of the "founding fathers" of Bono. He donated 20 acres along with another 20 acres that was donated by Calvin L. Jones, in order to found Bono. My grandfather, Collin J. Williamson, was raised in Bono. I remember being told stories about when he and my great-grandfather would go to town (Cleburne) and take their cotton to market. My grandmother had a picture of my grandfather (Collin) and my great-grandfather in a wagon full of cotton, sitting in front of the Cleburne Courthouse. My grandparents, Collin & Cora (Homan) Williamson lived in Bono and raised their 4 children (my mother being one of them). If I remember correctly, they moved to Cleburne in the late 1950's or early 1960's. I remember when I was a kid, we would go to Cleburne to visit and we would always drive out to Bono and look at the "old homestead" where my mother grew up. Today, the house is gone, but I can still find where the house used to be. My maternal great-grandparents are buried in the Bono cemetery (Edward & Ollie Homan) as well.

Stumbling upon your site has enabled me to remember some of the stories I remember being told when I was a kid. I have even taken my son out to Bono and told him the history behind Bono and why it is important to our family. Thank you for my "much needed" escape! - Sincerely, Debbie Miracle, October 03, 2006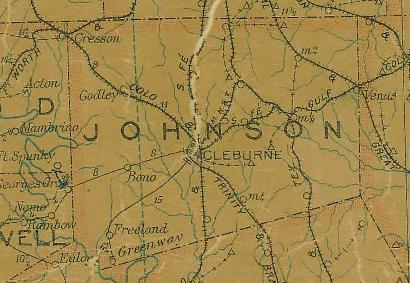 1907 Johnson County map showing Bono below Cresson & Godley
(Below "JO" in "JOHNSON")
Courtesy Texas General Land Office
Custom Search