"My grandfather, Richard Green, and father, Melvin Owen, co-owned the store in Bug Tussel, TX around early 1957 or 1958 through around the mid 1960's." - Rose Bariekman, April 15, 2014
History in a Pecan Shell
John Truss, was a settler in the area in the 1890s and the town had originally been named in his honor. For some reason the name of Truss, Texas was changed to Bug Tussle.

Bug Tussle signs were popular with souvenir hunters and many people would marry there to have Bug Tussle on their marriage license.

The population dwindled to only 6 in the 1960s.

The David Graham Hall foundation took a lease on downtown Bug Tussle in the mid 1960s in an effort to restore it. During the restoration the population increased to about 30 persons.

The name continues to draw people. Antique car clubs and other organizations will hold events there to use the name on their programs and posters.


Rose Bariekman, who sent the above photo of her father and grandfather in front of the Bug Tussle Store in 1957, also attached the following blurb from the March 20th 1962 edition of the Victoria Advocate. Although the term was not then in use, It was obviously what is now known as a slow news day:

BUG TUSSLE LIVES ON
Bug Tussle, Texas (AP)
The mayor of this small NE Texas town (Population about 10) has received official thanks from the House Minority Leader Carl Albert of Oklahoma for keeping the name of his hometown alive. Albert is a native of Bug Tussle, Oklahoma, a town whose name has changed years ago to Flowery Mound. Bug Tussle's self-appointed mayor, Richard Green, who owns the towns largest industry (a one man "shop-made hoe" factory), claims the new Bug Tussle, Oklahoma is located where the white stripe down the middle of a farm-to-market road from Bug Tussle, Texas to the Red River meets the south bank of the river, marking the boundary of Texas and Oklahoma. He says "a unique gerrymandering ordinance did the trick."


Unique Town Names by Bob Bowman
Bug Tussle, in Fannin County, was originally called Truss, but supposedly got its new name when an invasion of bugs spoiled an ice cream social, but there are other versions... more

Texas place names describe unique stories of towns by Delbert Trew
Bug Tussle, in Fannin County, has two stories. The old people say it was named for the extreme efforts it took to fight off the bugs while attending a church picnic. The young people claim life in the town is so boring that they sit around at night watching the tumble-bugs work for entertainment.

Bug Tussle, Texas by David Knape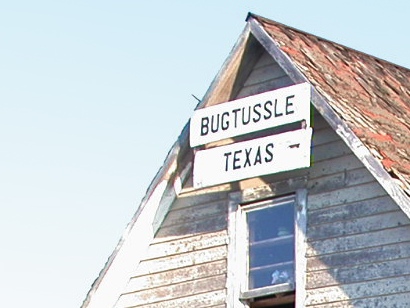 Photo courtesy James Nelms, February 2004
The store today
Photo courtesy James Nelms, February 2004
"The building just sits there mysteriously at the crossroads in front of empty fields." - James Nelms
Photographer's Note:
I came across TexasEscapes.com the other day, reading through the Ghost Towns and noticed that you did not have a photo of Bug Tussle, Texas. I have two photos I took that you are welcome to use for your site.

In February of 2004 my old buddy Robert and I took an afternoon Jeep trip out to Bug Tussle, just to see if it really existed. Sure enough it did although there was little more than an old wooden building with the Bug Tussle name plaque on top. Whether the building had any real official capacity such as a city hall or post office, or whether it was just an old building put there to draw tourists, I don't know.
The story Robert had told me was that a man (David Graham Hall?) had the town renamed Bug Tussle in the mid 1960's in order to cash in on the immense popularity of the CBS TV show The Beverly Hillbillies.

In the show, the Clampett family claims to be from a fictional town called Bug Tussle (presumably in Arkansas) which was near both Petticoat Junction and Hooterville (from the CBS show Green Acres).

Whether the writers of the show got the name from the Texas town, or whether the town renamed itself after the show is probably open for debate. Myself, I believe the latter. - Sincerely, James Nelms, July 04, 2012


Forum
Bug Tussle Store
The store was run by my Great, great Uncle, James Bates Fink... in the 1940's or earlier. - Lydia Young Noll, August 11, 2012


Texas Escapes, in its purpose to preserve historic, endangered and vanishing Texas, asks that anyone wishing to share their local history, stories, and/or vintage/historic photos, please contact us.

More Texas | Texas Towns | Texas Ghost Towns | Texas Hotels
Custom Search