Downtown Ladonia
Photo courtesy Mike Price, April 2008
History in a Pecan Shell

The area was settled around 1840 by James MacFarland and Daniel Davis. James H. Cole, is credited with platting the town around 1855. The community had been known as McCownville but in 1857 the name was changed – supposedly to honor La Donna Millsay, a Tennessean singer who entertained the town.

The name La Donna was submitted to the postal authorities for a post office – and when it opened in 1858 – no one was sure of who was responsible of the slight change in spelling. In 1887 the Gulf, Colorado and Santa Fe Railroad arrived and the town grew to a respectable population of 350 (more or less). Ladonia became a shipping point for cotton, corn, and grain crops. In the 1890s the population grew to an estimated 1,500 people – and 2,000 by the end of that decade. In the throes of the Great Depression the population fell to 1,199 and never recovered . By the 1970s it was down to just over 800 residents. By 1990 it reported a population of 658. and for the 2000 census it had risen to 667.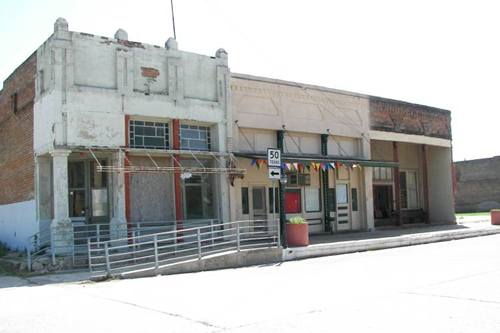 Former Presbyterian Church - now Heritage Hall
Photo courtesy Barclay Gibson
United Methodist Church in downtown Ladonia
Photo courtesy Mike Price, April 2008
Ladonia City Hall
Photo courtesy Mike Price, April 2008
Ladonia Volunteer Department & Pumper
Photo courtesy Mike Price, April 2008