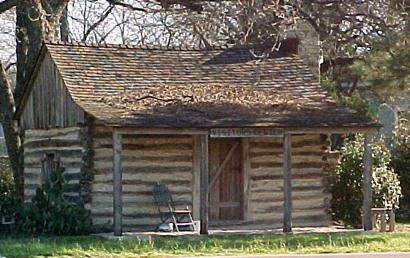 Visiting Hico, Texas
Hico, Texas - Where Everybody is Somebody
For the past twenty-five years I have poked fun of the fact my wife was born in Hico, Texas. It is one of those places that no one knows where it is and is not on the highway to anywhere important. The town slogan is "Where everybody is somebody" but a clever Hico native change it to "Where everybody is some………Where is everybody?" So after all these years of Hico jokes, I suggested to my wife that we take a trip to the famous Hico, Texas and I could see for myself the wonders of this sleepy little hamlet which nobody seems to know about. Like any good traveler preparing for a road trip adventure I hit the internet to discover the wonders of my vacation destination. To my surprise Hico actually maintains their own website touting all the benefits of life in their small town. One of their most interesting claims is Billy the Kid actually escaped Pat Garrett's shootout in New Mexico and eventually settled in this small out of the way town using the alias of "Brushy" Bill Roberts. Of course this claim probably doesn't sit well with the folks over in New Mexico since they are making tourist dollars from people visiting the burial site of Billy the Kid. Wanting to discover more about Hico's famous resident I clicked on the link that would lead me to his biography. To no surprise Brushy Bill was a colorful character in this small town during the early 1900's and was easily recognized on the downtown streets. Decked out with his round broad brimmed and round topped cowboy hat, colorful bandana around his neck, rough leather vest and tall cowboy boots Brushy Bill appeared trapped in the 1800's in a time of wild west cowboys, saloons, and outlaws. Whether or not this old cowboy was truly Billy the Kid he definitely left the town with enough details of his life to be convincing.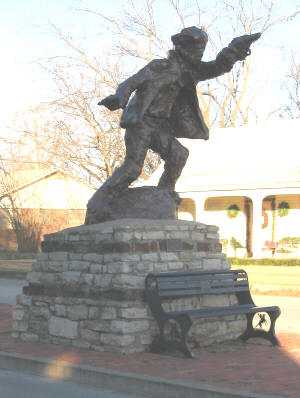 Billy The Kid Statue
Photo courtesy Teri Brown, September 2005
My next discovery was the scenery around Hico. A river running through town, lush vegetation, an abundance of trees, and rolling hills all define the landscape. Definitely a change from the flat treeless brown vegetation I am accustomed to. I am beginning to ponder the idea that Hico may be a hidden gem. At this point I am thinking, "How could this get any better? The town has a river, lush vegetation, and a famous character to investigate." Next to my delight I discover Wiseman House Chocolates are located here. Chocolate delights made fresh daily from scratch. Just as I thought this place can't get any better I see that it is just a few miles away from Dublin, the home of the only place on earth still bottling the original Dr Pepper with the 10 2 4 bottle and Imperial Pure Cane Sugar. For a dedicated Dr Pepper drinker like me, going to Dublin is somewhat a religious pilgrimage. So now I have great scenery, Brushy Bill Roberts, famous chocolates, and the original Dr Pepper. This place is beginning to seem like heaven. In fact I am beginning to repent of my jokes regarding this place. As I sit in front of my computer in a euphoric state as a result of discovering these wonders, I find yet another golden trinket. Hico is the home of the famous Koffee Kup café which is listed in Southern Living magazine and motorcycle road trip websites as one of the best places in Texas for a chicken fried steak and coconut cream pie. Les Thomas of Southern Living describes the coconut pie as, "topped with meringue as tall as a cowboy hat." Now besides all the other reasons I've discovered to visit Hico, I can add to my list chicken fried steak, coconut cream pie, and a parking lot full of Honda Gold Wings and Harleys to drool over. After arriving in Hico it proved to be everything the website claimed. Never again will I deride the fact my wife was born in Hico, Texas , "Where everybody is somebody." - David Pinson, Amarillo, Texas, July 16, 2007
---
Hico, Texas Landmarks / Attractions
Bridge over the Bosque River in Hico.
"There IS a new and better one upstream."
- Jim & Lou Kinsey
Billy the Kid Related Articles:

---
---
Texas Escapes, in its purpose to preserve historic, endangered and vanishing Texas, asks that anyone wishing to share their local history and vintage/historic photos, please contact us.