History in a Pecan Shell
Named after George Lamkin, the man who donated the plot of land that became the town. Lampkin had a post office granted in 1884 and the population for the 1890 Census was given as 25.

For more recent history, see Forum below. The county library in Comanche may have additional information.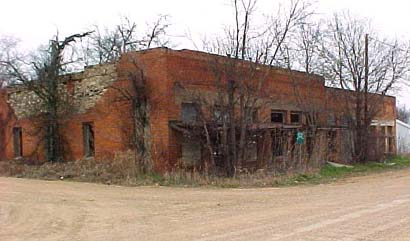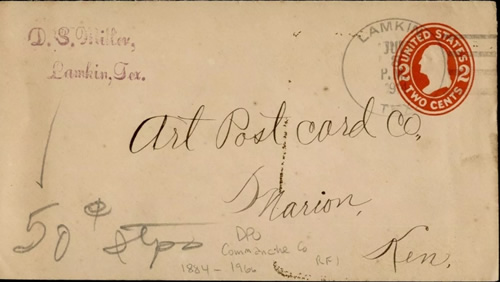 Lamkin, Texas Forum
Subject: Lamkin, TX, 1900s
My Great Grandfather Frederick Ischy Carrigan was born in Lamkin, Texas in 1900 before the town was relocated one-half mile north after a flood of the Leon River in 1908.

Excerpt from a Letter written by my Great Grandfather, Frederick Ischy Carrigan, to his daughter.
(Punctuation and Grammar preserved):
"I was born in Lamkin Texas March 1st 1900 . . . Mother [Lena Kreig Carrigan] ran a bording house in Lamkin dad [John Wade Carrigan] was the school teacher. The school was one long room. Girls sat on one side, boys on the other. All grades in this room. We moved to New Mexico in 1908 so I don't remember much of Lamkin. The doctor came once I remember in a buggy from Comanche. I think it was an all day trip. One time 2 negros came in a wagon. The first I ever saw as Comanche County didn't allow negros in the county. These two had got lost and was directed to get out before sundown. Several counties in Texas at that time had signs posted Negro don't let the sun go down on you're here. There was a river there that flooded at times. One time it flooded and washed out the side of a store with all it contents. That sure made some treasure hunt for us kids. After the [illegible-possibly "water"] went down, we boys couldn't go to the river without dad, but there was a slew. Could catch small fish and crayfish which we boiled in a can. Men carried pistols then. A fellow came home one night and his wife had moved the dresser to another wall. This fellow saw his reflection in the mirror and thought it was another man and shot hell out of the dresser mirror." - Cliff Sheets, August 02, 2013


Subject: Lamkin, Texas
I just looked at your information for Lamkin, Texas and saw 2 pictures. My father owned the red brick buildings in the first picture in the 70's and 80's. My parents thought about opening up a restaurant in them for years, but it just never happened. They both grew up in Lamkin. My dad, Jack Burt was born in 1927. My mom, Madeline Jackson, was born in 1929. She also was on the girls basketball team. My aunt Emily Jackson had a beauty shop in Lamkin in the 70's and 80's. My grandmother, Annie Mae Jackson, lived in Lamkin until she died. At one point she was a cook at the Lamkin School many years ago. My grandmother and grandfather had a gas station when my mom was small, my grandmother once pumped gas for Bonnie and Clyde. My parents and relatives are buried at Gentry's Mill Cemetery. - Ron Clark, April 24, 2011


Subject: Lamkin and other towns
Just wanted you to know that I really appreciate the information you have provided on the small towns in Central Texas (Lamkin, Pottsville, Cranfills Gap, Fairy, etc) My father's family--way back --lived in those towns. Daddy was born in Lamkin in 1918 when there was a railroad three barbers, a couple of banks, a couple of general stores and schools and my aunt even played on the high school ladies basketball team! It was quite a town. Daddy is buried at Toliver cemetery alongside his grandparents (d.1895) and some of their kids (D.1899 1920) His family was kin to the Neal family and they were great friends with the Dalton family who moved to Hamilton. My maiden name is Clayton and my great-grandparents helped to establish the Primitive Baptist church in Lamkin. Thanks again for the hard work you all have done. Even though those towns are dead or dying, it is nice to have some memories stirred up. - Laura Mosier, August 14, 2004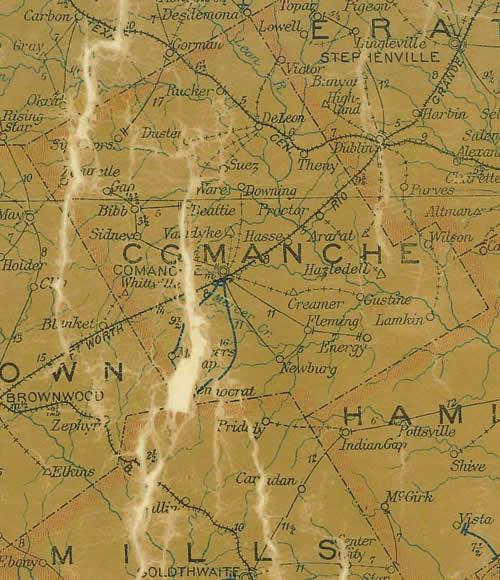 Texas Escapes, in its purpose to preserve historic, endangered and vanishing Texas, asks that anyone wishing to share their local history, stories, landmarks and recent or vintage photos, please contact us.