First United Methodist Church of Morgan
Recorded Texas Historical Landmark
Photo courtesy Barclay Gibson, July 2007
History in a Pecan Shell

Morgan actually dates from an 1876 meeting under an oak tree, although things didn't really get moving until the late 1870s when the Texas Central Railroad approached the town and a post office opened in 1879 - under the name Steele's Creek. With the arrival of the Gulf, Colorado and Santa Fe Railway, Steele's Creek became a two-railroad town - and were so happy about their guaranteed prosperity that they renamed themselves to honor Thomas Morgan, a Santa Fe official.

By the mid 1880s, Morgan had a thriving population of 600, which grew to an estimated 850 by the end of the century. The 20th Century wasn't as kind to Morgan as the 19th had been. From 830 people in 1910 it declined to less than 700 by the mid 1920s and just over 500 by 1941. The double-whammy of improved roads and available cars lured people to Waco and Fort Worth in search of well-paying jobs. By 1970 the population was a mere 200 which has since increased to the present 451.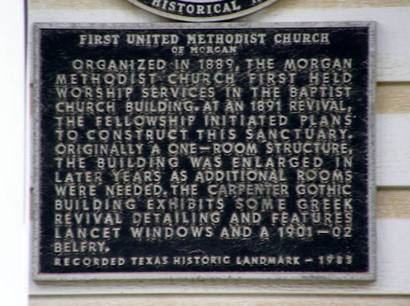 First United Methodist Church historical marker
Photo courtesy Barclay Gibson, July 2007
Historical Marker
First United Methodist Church of Morgan
Organized in 1889, the Morgan Methodist Church first held worship services in the Baptist church building. At an 1891 revival, the fellowship initiated plans to construct this sanctuary. Originally a one-room structure, the building was enlarged in later years as additional rooms were needed. The Carpenter Gothic building exhibits some Greek Revival detailing and features lancet windows and a 1901-02 belfry.
Recorded Texas Historic Landmark - 1983
What remains of Union Hill School
Photo courtesy Barclay Gibson, July 2007
Historical Marker (Hwy 174 about 4.5 miles N of Morgan):
Union Hill School
Started before 1879, the Union Hill School was one of several rural schools that served the early settlers of Bosque County. A two-room 1888 schoolhouse, located across the road, was used until 1914, when a two-story building was constructed at this site. A nearby stable housed the student's horses during the school day. Enlarged by the 1926 merger with the Auburn Hill District, Union Hill became part of the Kopperl District in 1939. Former students, which include many area business, professional, and agricultural leaders, still meet for a biennial school reunion.
(1981)
A depot In Morgan?
Vintage photo courtesy Dane Williams
More Texas Depots
Bosque County 1920s map showing Morgan
NE of Meridian
Modification of Texas General Land Office 1920s map
Texas Escapes, in its purpose to preserve historic, endangered and vanishing Texas, asks that anyone wishing to share their local history, stories, landmarks and vintage/historic photos, please contact us.