---
---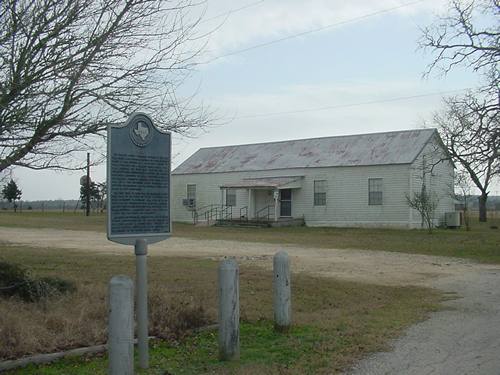 Delhi, Texas, (pronounced DELL HIGH), is situated in one of the more thinly populated parts of Caldwell County. Eighteen miles east of Lockhart , if you can find where FM 713 intersects with Highway 304, head south on 304 and you'll soon pass a cemetery, church and a simple building identified as the Delhi Community Center.

The well-tended cemetery is on the left side of the road. Enclosed by a tidy, but far-from-quaint cyclone fence, the cemetery's identity is confirmed by the overhead arch saying DEHLI - 1881. Tiny Confederate and American flags, their number disproportionately large to the number of graves in general, snap in the near-constant breeze.

A granite marker stands just outside the cemetery gate seemingly too elaborate for a community that no longer appears on state maps. The explanation is in the number of inscribed names.

According to the Handbook of Texas, the population of tiny (never-had-a-railroad) Delhi never exceeded 200 persons. Nevertheless, from the Civil War to Vietnam, the town supplied 32 soldiers to various wars, "police actions" and conflicts.

The first thing that catches the visitor's eye is the duplication of surnames.

Like most Delhi men, Alford J. Fogle served in the Confederacy during the Civil War. The Fogle family didn't participate in WWI, but they made up for it in WWII when Julius, Marvin, and Willey Fogle served.

The Cox family had John G. in the Civil War, Jessie G. in WWI and Joe H. in WWII.

Bartlett S. Reid was in the Civil War and a descendent also named Bartlett S. served in WWII.

Glenn B. Reid served in WWII and years later Carroll A. Reid was Delhi's solitary Vietnam casualty.

Although Spanish-American troop trains to Florida passed as nearby as Luling, Delhi didn't have a participant in the all volunteer Spanish-American War.

But, by the time the U. S. became involved in WWI - Delhi was again ready.

Two Neeleys, Penn E. and Clarence J. served in The Great War and then Lloyd C. Neeley served in WWII. Tyre Pendleton was in WWI while descendent George M. Pendleton died in the Korean War.

Horace and Vernon were either brothers or a father and son that served in WWII.

(From Texas War Casualties by John Troesser)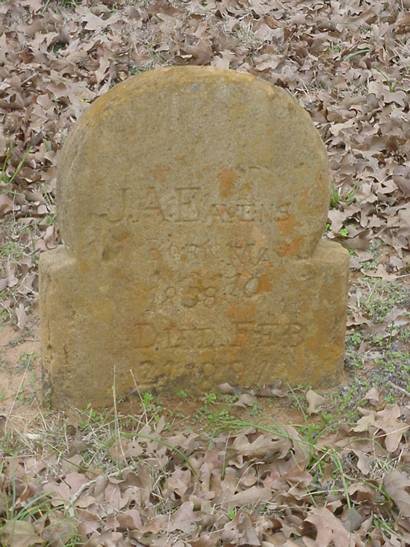 ---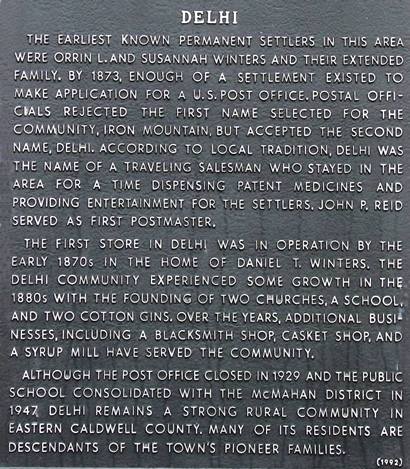 Historical Marker :

DELHI
The earliest known permanent settlers in this area were Orrin L. and Susannah Winters and their extended family. By 1873, enough of a settlement existed to make application for a U. S. Post Office. Postal officials rejected the first name selected for the community, Iron Mountain, but accepted the second name, Delhi. According to local tradition, Delhi was the name of a traveling salesman who stayed in the area for a time dispensing patent medicines and providing entertainment for the settlers. John P. Reid served as first postmaster.

The first store in Delhi was in operation by the early 1870s in the home of Daniel t. Winters. The Delhi community experienced some growth in the 1880s with the founding of two churches, a school, and two cotton gins. Over the years, additional businesses, including a blacksmith shop, casket shop, and a syrup mill have served the community.

Although the post office closed in 1929 and the public school consolidated with the McMahan district in 1947, Delhi remains a strong rural community in eastern Caldwell County. Many of its residents are descendants of the town's pioneer families.

(1992)
---
---
---
Texas Escapes, in its purpose to preserve historic, endangered and vanishing Texas, asks that anyone wishing to share their local history and vintage/historic photos, please contact us.