Railroad men pose on Turntable at Glidden Shops
Photo Courtesy Nesbitt Memorial Library File #01818
History in a Pecan Shell

Originally a railroad town with shops, a switch yard and a round-house belonging to the Galveston, Harrisburg and San Antonio Railway. After construction of the switching yards was completed, a plat was filed in the Spring of 1885.

Two years later the town was thriving despite its proximity to the county seat of Columbus. A large hotel was in operation as well as other stores and businesses that catered to the railroad employees. A post office was granted in the late 1880s established in 1888. The population in 1891 was over 200 and tiny Glidden became the largest railroad-maintenance facility between Houston and El Paso.

In 1896 Glidden worked hard and played hard - with three saloons providing most of the recreational activities. Glidden was essential for the war effort - and troops from San Antonio passed through on their way to Florida during the Spanish American War.

The two world wars were no exception and the shops at Glidden kept the troop transports rolling. The town prospered and no one complained of the noise coming from the roundhouse.

As steam locomotives gave way to diesel, the round house and shops at Glidden were soon obsolete. As they were phased out - Glidden declined.

From a population estimate near 400 in 1925, it had fallen to a mere 150 by 1949. It remains active, but shopping is done in Columbus and the population was still well under 300 in 2000.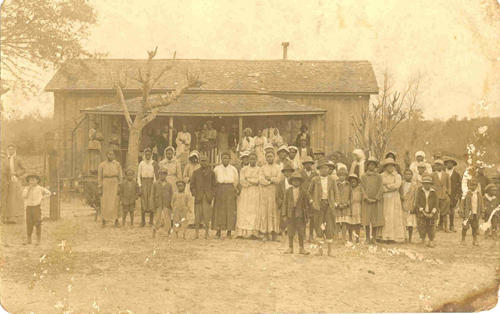 Photo courtesy Nesbitt Memorial Library Photo # 00033
The Site of the Glidden Ax Murder - March 1912
"Six persons, four children and two adults were murdered in their sleep in Glidden in March of 1912. No one was ever convicted of the crime. The photo shows the home in which the murder occured and many of the victims' neighbors."

More Texas Murders
Water Tower and Roundhouse at Glidden Railroad Shops
Photo courtesy Nesbitt Memorial Library Photo # 01820
Engine 593 and railroad men at Glidden
Photo courtesy Nesbitt Memorial Library File # -01817
See Texas Railroads
Texas Escapes, in its purpose to preserve historic, endangered and vanishing Texas, asks that anyone wishing to share their local history, stories, landmarks and recent or vintage photos, please contact us.