History in a Pecan Shell
The town had a post office in 1892 which was discontinued in 1906. 50 people lived there in 1933. At one time there was a saloon, a blacksmith and a store. It was named by town founder John Halamicek for his birthplace in Europe.
If it wasn't for the sign, you'd never know there was once a town here
TE Photo, October 2004
Roznov History
By Carolyn Heinsohn, Fayette County Historical Commission:

First settler was George Weikel who arrived before the Civil War. He owned one of the first gristmills in Fayette County, a sawmill and gin. Cotton was hand-cleaned by slaves. During the Civil War, a stone building on Weikel's farm housed Confederate deserters. Son, Joseph Weikel, died in 1884 when his gin caught fire.

John H. Halamicek , who arrived in 1885, named the community after his birthplace, Roznov, Moravia. The community was also called Halamicek. Halamicek founded a store in 1885 that once served as the post office, as well as a drug store, because he was a registered pharmacist. A blacksmith shop was owned by John Rek. There also was a saloon, a beef club and a molasses press.

The Cordes School was located on County Rd. 257 or Halamicek Loop. Another area school was the Javornik School named for the SPJST Lodge No. 2

The Halamicek Cemetery was established in 1899 after the death of a Pustejovsky child. The land where she was buried was originally owned by Peter and Rosina Krystinek, who conveyed one acre to John Halamicek for a community cemetery.

The settlers were predominantly Czech with a few Germans. The earliest settlers besides George Weikel and John Halamicek were Fred Knutzen, Bernard Cordes, Joseph Orsak, Joseph Cervenka, Peter Krystinek and Frank Pustejovsky.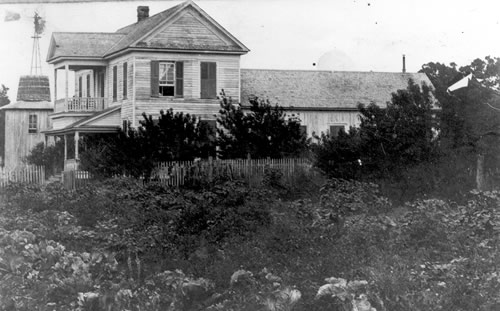 The Halamicek Homestead
Click on image to enlarge
Photo courtesy Greg Stone & Louisa Halamicek Stone
Halamicek home front view
Click on image to enlarge
Photo courtesy Greg Stone & Louisa Halamicek Stone
The Halamicek Cemetery
Photo courtesy Greg Stone & Louisa Halamicek Stone
More Texas Cemeteries
A distant view from Roznov today
TE Photo, 2004
Roznov, Texas Forum
Subject: Roznov, Texas
I saw your page on Roznov, Texas and decided to contribute what I know about that place. My wife's great grandfather was John Halamicek. He named the village in Fayette County, Texas after his birthplace, Roznov pod Radhostem in the Moravian part of what is now the Czech Republic.

He bought a store at Roznov, TX shortly after he married Miss Anna Baron in 1885. He added on to his property there and at one time there was a school, a post office, a molasses mill, and homes for his tenants. Mr. and Mrs. Halamicek raised their 12 children at Roznov, and continued to live there until they died. They are buried in the Halamicek Cemetery which is near Roznov at the junction of FM 1291 and C.M. Allen Road, about 5 miles east of Fayetteville.

Attached (above) are some pictures of Roznov and the Halamicek homestead that used to stand at Roznov. - Greg Stone & Louisa Halamicek Stone, August 29, 2006
Fayette County 1907 postal map showing Roznov
From Texas state map #2090
Courtesy Texas General Land Office
Texas Escapes, in its purpose to preserve historic, endangered and vanishing Texas, asks that anyone wishing to share their local history, stories, landmarks and recent or vintage photos, please contact us.