The Historic Finn Building
TE Photo
Austin County Courthouse
It's a sad story when a town loses its courthouse and it's more tragic when it is such a fine example of judicial architecture.


The beloved 1888 (former) Austin County Courthouse in Bellville
Courtesy Bellville Historical Society
Main Street in Bellville
It looks the same today - only different.
Photo courtesy Bellville Library
Bellville, Texas Attractions
Austin County Jail, Museum & Library
Bellville has a great jail, which now serves as the Austin County Museum, and many other buildings. Maybe they aren't as grand as the jail, but they are charming and in some cases unique (The old Dr. Pepper bottling plant with its rock façade comes to mind). more
Town Square
On and just off the square are antiques and crafts shops and eateries within easy stroll.
Guide to Historic Buildings
The Bellville Historical Society has prepared a guide to Bellville's turn-of-the-century homes and downtown buildings. It's available at the Chamber of Commerce.


The Bellville Band
Photo courtesy Bellville Library
The Double Hanging at Bellville in 1896

All things considered, it was a pretty civilized affair.

There were two murders in Austin County in 1895. While they occured in distant corners of the county, they were separated by a span of only 38 days. Both perpetrators were apprehended and taken to the County Jail in Bellville. This sort of situation must have been on the minds of our wise and august lawyers in Austin when they passed legislation demanding Courthouses be placed near the center of the county. It certainly made things convenient for the populace to attend hangings. more
Bellville Tourist Information
Bellville Chamber of Commerce - 979-865-3407
13 East Main, PO Box 670 Bellville Texas 77418-0670
http://www.bellville.com/




"The Bellville tin man tank and its giant red arrow wind vane. Unfortunately that tower no longer exists today."
Oct 20, 2000 Photo courtesy David Stall
Bellville Texas Forum
Subject: Really enjoy this site!
Hi, as a resident of Bellville, I wanted to tell you how much I enjoyed the site designed by Kate Wong Troesser. The pictures used are fine and the site is so easy to navigate - always a good thing! And the information given is informative, interesting and such fun to share. I have sent this address to a friend in Norway so he can finally get a little gist of the town of Bellville. Thank you for making this available. - Sincerely Susan W., May 19, 2002
Subject : cool site
I enjoyed the hell out of your whole site. I'm trying to think of the best way to say "Go look at this cool site" to my readers at Houston.About.Com. I found you via a Google search for some small town thing - can't recall now. The Double Hanging in Bellville tempted me to go off on a highly enjoyable tangent.- Aussie M

Bellville Area Hotels
Brenham Hotels | Sealy Hotels | More Hotels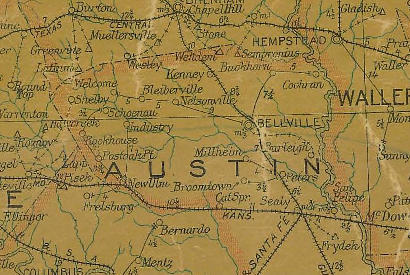 Austin County Texas 1907 Postal Map showing Bellville
Courtesy Texas General Land Office
Texas Escapes, in its purpose to preserve historic, endangered and vanishing Texas, asks that anyone wishing to share their local history and vintage/historic photos, please contact us.
Custom Search
Book Hotel Here - Expedia Affiliate Network