History in a Pecan Shell
Ashland came into being in the mid 1840s as a marketing point for regional plantations. There was a post office established in the mid 1890s but under the name of Asbury, Texas.

At this point the community had just over 100 people with two doctors and two churches as well as the essential general store.

The community (and post office) were renamed to the present name in 1902. The community's high-water mark was reached about 1914 when the population reached 250 with as many as four stores serving the residents.

A decline occurred after WWI and the post office closed its doors. The population was down to 175 by 1933 and it continued to fall drastically. By the mid 1940s it was a mere 20 residents. Only a church, cemetery and scattered houses remained by the 1990s and the photographer reports that during his visit in 2011 even the church is now gone.

In recent years the population has doubled to around 45 residents.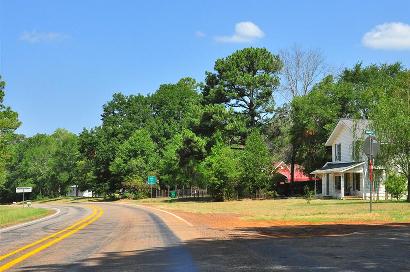 Country road in the piney woods of Ashland
Photo courtesy Gerald Massey, July 2011
Texas Escapes, in its purpose to preserve historic, endangered and vanishing Texas, asks that anyone wishing to share their local history, stories, landmarks and recent or vintage photos, please contact us.