In April 1947 Reagan High School students were shocked out of their seats when the Vancamp a ship loaded with fertilizer exploded at Texas City. We all went to the open windows of our classes at this Houston (Heights area) school to see what happened. At 43 miles away if we saw anything it was only some smoke. The blast started us talking about boating in Galveston Bay.

That was 6 years before the Lake Houston Dam was completed and 10 years before this first lake in the Houston area became useable. That is why we chose the bay. None of us thought about the distance of 16 miles as the crow flies across the bay to Smith Point.

When that summer day arrived Bob McGee, Don Daily, John Artz, Robert Below, Ernest Albers and myself left for Seabrook on Galveston Bay to rent a boat. Each of us was 2 years from graduating as part of Houston's first class of 12 years of public schooling. But none of realized this first seafaring trip could be our last – except for a confluence of good luck.

John had brought his 16hp Scott Atwater motor along which he attached to our rented boat. We headed straight out across Galveston Bay. The further we went the choppier the water got. Finally the bow started taking on water so we made a U-turn even though we feared the transom might take in more water. Headed back toward the shore looked good but that was a mistake too because the choppy water sunk the boat quickly.

In desperation John shut off his motor and started un-clamping it as Bob stepped up to help in lifting it. Speechless all of us began to just stand up - as the boat went down. At about our waist height, the water stopped rising. Now hundreds of yards out in the bay we wondered why the boat stopped sinking. Finally we stepped out of the boat and found we were standing on the bottom.

Our feet were tough, but the bottom was uncomfortable. We were on a bed of oysters. Maybe 50 yards away was a small island of old shells and nearby a homemade inboard boat was tied to a pole. Some of us swam over there. Luckily the boat key was in the ignition. We started it, and towed our boat back to the store where we rented our boat. We gave them both boats - and our story. The fact that oysters kept us from drowning is what I like most about oysters.
Boats Returning
Photo courtesy Ken Rudine, April 2013
Oysters Packaged
Photo courtesy Ken Rudine, April 2013
Boat Unloading
Photo courtesy Ken Rudine, April 2013
Local Hauling
Photo courtesy Ken Rudine, April 2013
Ready For Loading
Photo courtesy Ken Rudine, April 2013
Oysters are a bi-valve (two shells) mollusk that live in brackish water. Brackish water is any mixture of seawater and run-off from the surrounding land mass. That is a description of most bays.

Back then I only knew what my Daddy told me about oysters. What he said was oysters are only edible in months spelled with "R". That would be September through April. With the advent of refrigeration, some rules have changed. Oysters lay millions of eggs in the warm water, so harvesting stops then. It is estimated only 1 egg in 4 million might reach maturity.

I have heard many stories about eating oysters but I don't intend to add to the confusion. My mission is to fill in information by way of photos about how you are furnished the opportunity to eat oysters.

Most oysters are dredged up, culled and sacked before the boats reach their harbor. I have seen some boats returning with such heavy catches there are only inches of their draft out of the water. At the dock I watched one boat unload 40 sacks, which is equal to 4,000 pounds placed on pallets for forklift loading. I saw a fully loaded, over the road, refrigerated van leave from Fulton TX headed to Florida. [7 and 8]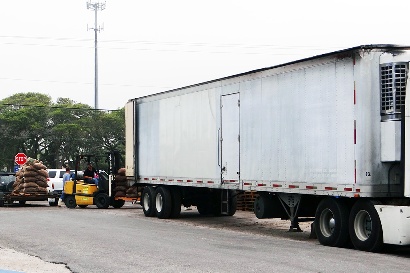 Refrigerated Van
Photo courtesy Ken Rudine, April 2013
Oyster Shells
Photo courtesy Ken Rudine, April 2013
One large oyster averages filtering a barrel of water for plankton during a typical day. For food, they are shipped in the shell alive on ice or refrigerated. The shells can be pulverized for chicken feed and fertilizer or burned to make quicklime. Quicklime is calcium oxide, a caustic alkaline substance used for mortar, flux, treating corn and to waterproof boats.

The packaging standard is twenty burlap sacks of oysters placed on a pallet for handling and loading. Texas oysters are a nourishing shellfish. They should not be confused with pearl oysters, which are from a different genus. There are about a hundred species of oysters. The edible kind never produces pearls.

Recently I learned there is one other species of oysters AKA, PRAIRIE OYSTERS. And they are award winning from Canada. Look them up, listen and enjoy.


© Ken Rudine, May 6, 2013 Column
More Traveling Team Rudine
Related Topics: Fulton, Texas | Columns | Texas Towns | Texas |
Custom Search
Book Hotel Here - Expedia Affiliate Network