History in a Pecan Shell

The land around Fashion had been settled as early as the 1850s.

In 1916 the Hickok Ranch was subdivided into farms. The town was first called Hickok after the ranch, then Hindenburg, which necessitated another name change around WWI.

The name comes from a popular brand of tobacco, but it is also similar to the German Fasching – the German Autumn festival season.

The post office, (which closed in 1988) was known as Fashing in 1920.

Fashing did not have electricity until the 1930s, when the population was a mere 25 persons. From 1939 until 1964 it reported 125 residents which seems to be it's highest point. In 1968 thew population was back down to 90.

In 1972 Fashing was proclaimed the "Grand Champion Rural Community of Texas." Its first school, was built in 1917. A school for Mexicans was opened and the two merged in 1947.

After 1980 the seventh and eighth grades were bused to Karnes City. Primary grades stayed in Fashing until the school closed (1988).

Nearby Peggy, Texas shares a community center with Fashing.


Fashing Historical Marker

San Antonio Hotels
Jourdanton Hotels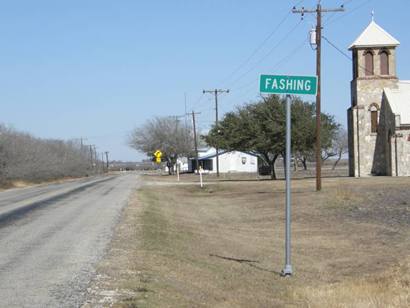 Fashing United Methodist Church
Photo courtesy Barclay Gibson, February 2009
Fashing Historical Marker
Junction of FM 2924 & 99, in front of Fashing School
Photo courtesy Barclay Gibson, February 2009
Historical Marker Text
Town of Fashing
Near the Old San Patricio Trail, leading from San Antonio to McMullen and McGloin colony, in area of Gulf of Mexico. In this vicinity were stage stops at Belle Branch, Rock Spring, Rountree's, and Tordilla. Land was part of the Butler, Hickok, Tom and Rountree ranches. Town was platted in 1915 as "Hickok." However, after the U.S. Post Office Department disapproved that name, the tag on a popular tobacco -- "Fashion" -- inspired adoption of the name "Fashing" for the town.

First schoolhouse was built in 1917; a second, 1921. The Methodist church, organized 1922, erected first house of worship (building moved in from Bastrop) in 1925. In 1934, St. Elizabeth Catholic Church was built. The Martin Luther Lutheran Church was erected 1948. Present school building was completed in 1952.

A center for mineral development. First local oil production was from Weigang Field, 1946. Tordilla Hill (5 mi. N) was site of first major uranium discovery in Texas in 1954. After further petroleum strikes in Fashing Edwards Limestone Field, 1958, gas and sulfur processing plants were built by the Elcor Chemical Co., Lone Star Producing Co., Sinclair Oil and Gas Co., and Warren Petroleum Corp. Currently, the only commercial uranium operation in Texas is near here.
Photographer's Note:
Notice on the historical marker that the Methodist Church had been moved from Bastrop. - Barclay Gibson
"The Texas Town Tagged after a Tin of Tobacco."
Photo courtesy Barclay Gibson, February 2009
Same scene in February 2001
TE Photo