Jarrett and the Old Jarrett Schoolhouse
Photographer's Note:
Located about 2 miles NE of Swinney Switch, Texas on a big "S" curve you will find the last reminder of the community of Jarrett, Texas. 

There is little information to find on the little community and its origin.  One set of my GG-granparents bought and moved into the old Caldwell place in 1906 about 2 miles NE of here.  They lived about the same distance from Clareville in Bee County and claimed both as being from. My GG-Grandmother cried when they drove up in the wagon and she saw this old run down house with a dog-run through it.  This house was pretty old then. She couldn't believe she left a nice east Texas farm for this! 

The schoolhouse was not the original as my grandmother (96) said she remembers the wood post base for an earlier school just a stone's throw away to the NW.   There was also a "Spanish" school on the north side at one time.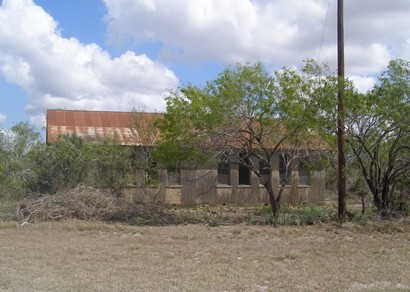 The horse watering trough on school ground
Photo courtesy William Beauchamp, August 2009
The old horse trough is still out back where the corral for the horses once stood.  The old floors were oiled twice a year - as told by the main teacher's son.  This was evident as vandals tried to pry the old floor out but it was solid as could be and they quickly gave up. 
Until 2008 the school had been covered in brush. A group from nearby Swinney Switch cleared the brush around it in 2009 and were trying to gain funds to restore the old place.  My mother's wedding shower in the 1950's was the last function held at the school.  -  William Beauchamp, November 2009