The south corner is at E. Madison and E. 5th street and the NW corner is at E. Madison and E 2nd street. The NE boundary is the town resaca.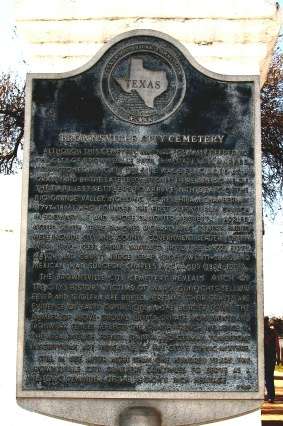 Historical Marker:
BROWNSVILLE CITY CEMETERY
Although this cemetery was not formally deeded to the city of Brownsville until 1868, dates on marked Tombstones indicate the site was being used as a Graveyard by the late 1850ís. Buried here are some of the earliest settlers to arrive in this part of the Rio Grande Valley, including the Rev Hiram Chamberlain (1797-1866), who founded the Presbyterian Church in Brownsville and whose daughter Henrietta married noted South Texas rancher Richard King. Others buried here include city and county government leader Joseph Webb (1850-1933), Sheriff Santiago Brito (1851-1892), first Mayor and county judge Israel Bigelow (1811-1869), and Mexican War surgeon Charles Macmanus (1824-1906) The Brownsville City Cemetery reveals much of the cityís history, victims of wars, gun fights, yellow fever and cholera are buried here and their graves are evidence of early conditions in the border town. The number of above ground crypts ornate monuments and ironwork fences reflects the Spanish-French influence in the area. English-French Spanish and German tombstone inscriptions are indicative of the city ethnic mixture. Still in use after more than one hundred years the Brownsville City Cemetery continues to serve as a historical reminder of the regionís rich heritage.

Transcribed by Ken Rudine
Elizabeth St. runs the length of downtown, ending at the Old City Cemetery. For birders, both ends (Ft. Brown and the Cemetery) abound with flocks of green parrots, early morning and dusk.
Flock of parrots in flight
Photo courtesy Ken Rudine, February 2007
Texas Escapes, in its purpose to preserve historic, endangered and vanishing Texas, asks that anyone wishing to share their local history, stories, landmarks and recent or vintage photos, please contact us.