As a child I visited my grandmother's land in East Texas where I observed chickens roosting. They slept in a persimmon tree near the house. Without much commotion the chickens would fly up into the tree as soon as daylight began to fade. By dark the tree would be full.

The chickens slept all night but began leaving the tree at the first light of day. This is the source of the sayings "Getting up with the chickens" and "Going to bed with the chickens". These Rio Grande Valley parrots roost much like chickens except they are very noisy and occupy many trees.
Parrots Arriving To Roost
Photo courtesy Ken Rudine, November 2009
Over the last several years we have enjoyed finding roosting areas. We have found them from Brownsville to McAllen. We usually stay in Weslaco where our motel has a caged pair of parrots in the lobby. These parrots are generally quiet in the lobby, but when their cage is rolled outside their calls are loud and raucous, which reminds us of how parrots sound in the wild.

Mercedes is where we see the most parrots. Groups often roost there in or near the same place. By asking various people you can find those current locations. Most of the commotion is caused by the parrots trying to pair up with their preferred roosting partner. Noisy brawls break out when they are not happy. Wing flapping, chattering and flying about is the way the birds show their frustration. Some residents of the houses come out to watch the goings on. We have talked to many folks as we photographed parrots. Their story is always the same. "Lately this happens everyday".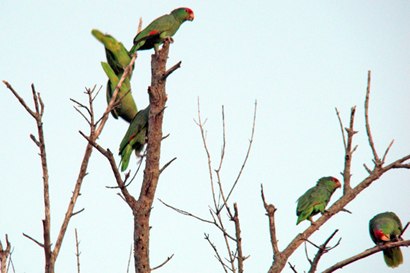 Looking For A Perch
Photo courtesy Ken Rudine, November 2009
We have also seen this event enough to know what is happening. At roosting time the ~200 or so birds, want to sleep on the same limb next to a certain bird. Many species of birds have lifetime mates, but we don't know if these parrots are in this group. There are many disagreements over perches and it is all must be settled within 15 minutes. By dark all becomes eerily quiet, with only an occasional squawk.

Parrots have many choices but the photographer has only a few minutes to shoot photos. From the time the parrots arrive to last available light is usually only about 15 minutes. They circle the area and land and then fly again wasting precious remaining light. But on the day of the included photos the parrots were already there.
They have picked a few blocks to try to roost in and we located them by their tremendous noise. They like bare trees, densely leafed trees and the tallest palm trees. All this calamity is occurring while the sun is setting. We were able to park within fifty feet or less of them in a tree with no foliage. Luckily we were positioned with the sun at our back, the only way to see any color on the bird photos.

Still photography of these birds can be difficult. For sure you must know your camera and its abilities in order to even come close to capturing a snapshot, much less a PHOTO. When you are fortunate enough to be parked in the midst of the roosting trees, you are shooting straight up. Besides keeping from tumbling over, you need to calmly take a picture. You might consider lying on the ground.
Paired Parrots Settling On A Perch
Photo courtesy Ken Rudine, November 2009
Activity Difference Between The Sexes
Photo courtesy Ken Rudine, November 2009
Female Still Talking And Male Asleep
Photo courtesy Ken Rudine, November 2009
If you are observant you may find two birds to concentrate on for a couple of minutes like those shown here. Apparently a mated pair, the female is talkative and animated while the male is stoic or already asleep. Not an uncommon human condition. The interaction between these two birds is possibly representative of the whole group.

Many years ago commentator Paul Harvey reported that birds communicate about only three things: Food, Sex and Danger. Since hearing that report everything I have seen confirms that observation.

January 20, 2010
Copyright Ken Rudine
More Traveling Team Rudine | Texas Birds | Texas Animals
Forum:
Subjects: Parrot Pictures
I happen to come across your website with the pictures of the parrots and was very excited to see it. The parrots are Red Headed Mexican Amazons, sometimes called Green Cheeked Amazons. They are native to the northeastern coast of Mexico and are very endangered due to habitat loss and poaching. I have one as a pet and am totally smitten with the breed. Everything you described about their behavior is totally true. They are raucous, happy birds. I had no idea they were living in the wild in that area but would like to visit Mercedes and Weslaco to observe them. Do you remember specific sites that I can visit to find them? I'm a teacher and would like to visit during Spring Break for a couple of days. Do you remember the hotel you mentioned in Weslaco? Thank you so much. - Shannah Perry, Cable Elementary

Author's reply:
We are pleased to help you. We like to stay in the Bestwestern Palm Aire Motel, 415 S. International Blvd (also known as 1015). (Book here) They have 2 of these parrots in a cage in the lobby. They will speak to you and their cage is rolled outside most mornings and they yell and call just like in the wild. We do not know where they spend the daytime. They usually fly in to a roost area maybe 10 minutes before they go quiet and asleep. As you know they are loud and jockey for position next to their favorite partner for that 10 minutes or so. Usually after they are paired off one will go to sleep while the other is still busy moving and squawking some. At dark all goes quiet.

We have pursued these parrots for years and have most often found them at sundown in Mercedes at or near S. Ohio & 14th St. We usually check the internet for the time of sundown for that day and go to the area about 1/2 hour ahead of time. However they usually arrive just as the sun drops below the horizon. If you can maneuver your position to have the sundown at your back it is the best light to capture any color in the birds. The reason we go early is so we can get use to the ambient noises so we won't miss the parrots arriving with their raucous noises.

In Weslaco you should also try S. Illinois & 11th st. That is adjacent to the Cemetery which may have some Great Kiskadees or parrots. We have been told to check 1204 Fair Park Blvd, Harlingen; 10th & Dove, McAllen but never made contact there. There are many in the old cemetery in Brownsville but we don't go there anymore - too risky. The first pictures we made of these parrots was in Brownsville as they flew over. But most of the pictures in Mercedes are made at 15X magnification so they are usually in high trees. But one time they landed in a tree over our car only 15 feet away. Pictures no good - I wasn't prepared for that close an encounter. Good luck. - Ken Rudine, March 03, 2012

Book Hotel Here:
Weslaco Hotels | McAllen Hotels | Mercedes Hotels
Custom Search
Book Hotel Here - Expedia Affiliate Network