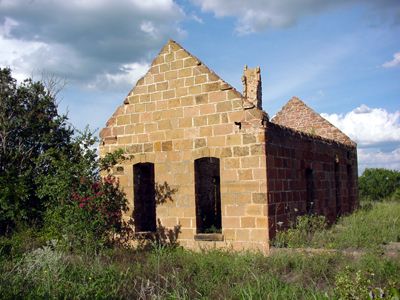 History in a Pecan Shell

The owner of the town's first store came from Pontotoc, Mississippi so that's likely the source. The town dates from the arrival of several families in 1859 and a post office was established in 1880.

The San Fernando Academy was founded in 1882 and Pontotoc's success seemed a certainty. That was until a typhoid fever epidemic decimated the population.

In Van Horn they bragged the town was so healthy they had to shoot a man to start a cemetery. In Pontotoc it became so unhealthy that in 1887 they filled up one cemetery and had to open another in 1888.

A proposal was made in 1890 for Pontotoc to become the county seat of a new county to be named Mineral. But the citizens of Mason felt it would take too much Mason County acreage and they collectively threw a wrench in the legislative works.

Pontotoc never got a railroad although several came within a few miles of the town. The Academy closed in 1890 and the decline began.

A small boom in the form of a mica-mining operation came about in the 1920s which increased the population by 50% but even then - it only reached 300.

A disastrous fire in August 1947 took out a good portion of the stores downtown.

The town wisely left several of the fire-gutted stone buildings and the photo opportunities are worth driving out of the way for.
In Pontotoc, even the ruins have a picket fence
TE Photo, September 2000
L - The handsome ruins of the former San Fernando Academy
R - Well drilling business in Pontotoc
TE Photos, September 2000
Another view of the ruins
TE Photo, Sept. 2000
Pontotoc Texas Post Office
Photo courtesy Barclay Gibson, January 2006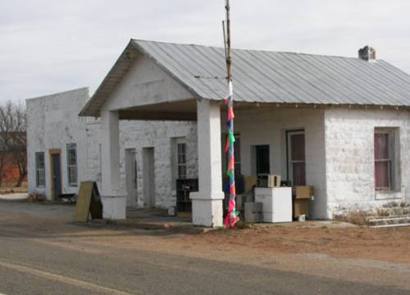 Pontotoc Texas Forum
In Everyone We Trust
Back in the Summer of 2001, my family and I were on a trip and stopped in Pontotoc. We had recently moved to San Angelo and were in route to Austin. In that part of Texas, there are few towns between the cities so when we saw a sign for Pontotoc, we decided to stop and find a store. The town looked just like the pictures you have posted and to our surprise, there actually was a little store, so to speak.

Having 3 small children, invariably somebody had to go to the bathroom and everybody wanted a drink. We went into the store but found nobody there. Assuming somebody would show up, we waited for about 10 minutes but nobody appeared. I happened to notice that on the counter there was a note pad where people had put their names and what they had purchased. After 10 minutes alone in the store, we decided to write down what we were purchasing, we noted how much each item cost (guessed if the price was not on the item) and left a suitable amount of money to cover the tab. We merrily left the store realizing what a unique town Pontotoc is. Over the next couple of years while we lived in San Angelo, every time we drove through Pontotoc, my wife and I would laugh about our experience at the Pontotoc store. - Grant Nichols, San Antonio, June 01, 2007


I had the chance to drive through Pontotoc last Saturday. I decided to check your superb website for a taste of what I missed but could see again this weekend. I was surprised to see "Pontotoc still has a newspaper (The Enterprise) for its estimated population of 125" written on the Pontotoc page. I was curious enough to call the post office to ask if the Enterprise was still being printed (as there was no phone listing for the paper). The two ladies I spoke to said Pontotoc didn't have a newspaper (one has lived in Pontotoc for 50 years). For the record, they wish there was a newspaper. Since I believe in the accuracy of your site, I'll ask around this weekend. In the meantime, do you know if the Pontotoc Enterprise is still published? Have you seen an edition? Thanks. - Bill Turner, August 12, 2004

Book Your Hotel Here & Save
Austin Hotels
More Hotels
Texas Escapes, in its purpose to preserve historic, endangered and vanishing Texas, asks that anyone wishing to share their local history, stories, and vintage/historic photos of their town, please contact us.