---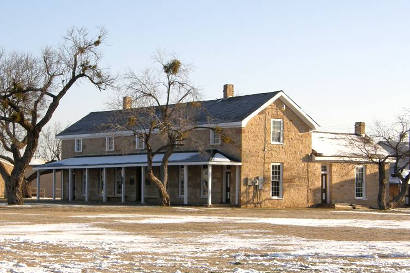 History in a Pecan Shell

San Angelo had originally been named after the wife (or some say the sister-in-law) of Bartholomew DeWitt. Mr. DeWitt had bought the 360 acres opposite Fort Concho for $1.00 per acre. The town had been spelled San Angela but that spelling was rejected by the postal authorities for its "ungrammatical construction". They would accept either Santa Angela or San Angelo and so the city fathers chose the easier-to-pronounce San Angelo.

San Angelo grew as a direct result of its proximity to Fort Concho. The town was a pretty rowdy place, and so was the fort. But Fort Concho's post hospital (built in the 1870s) served as the city hospital until St. John's Hospital and Health Center was constructed in 1910.

Five miles away from the fort - a rival town was prospering and indeed, it became the county seat. But the town, later to be named Ben Ficklin was washed away in an 1882 flood. Ben Ficklin's colorful story is worth reading.

After the courthouse at Ben Ficklin was swept away, San Angelo became the logical choice for the county seat. Shortly after the flood, Oscar Ruffini showed up and asked if anyone needed a courthouse. They did.

Ruffini had been sent west for his health and ended up outliving his "healthy" brother by decades. He stayed in San Angelo and made it his home, dying in the late 1950s. He is said to have contributed more than 40 buildings to the city - some of which are still standing. Between Oscar and brother F. E. - the Ruffini Brothers dotted the Texas landscape with courthouses, jails and durable structures from McKinney (The Collin County Prison) to the Concho County courthouse in Paint Rock.

San Angelo has always had a diverse economy. It developed a sheep raising industry in the 1870s and the railroad came through in 1888. Oil discoveries helped and in 1940 Goodfellow Air Field was developed, which later became Goodfellow Air Force Base.
SAN ANGELO LANDMARKS / ATTRACTIONS:
More San Angelo Attractions:

Fort Concho
The best preserved of the chain of forts across Texas. Twenty-three buildings on 40 acres make up this National Historic Landmark.
The Orient-Santa Fe Depot: 703 S. Chadbourne Street - Museum featuring West Texas Railroading.

Concho Avenue: Many fine examples of San Angelo's early architecture, beautifully restored.

San Angelo State Park: Camping, boating and fishing on 7,000 acres on O. C. Fisher Reservoir.
3900 - 2 Mercedes San Angelo TX 76901
325-949-4757
http://www.tpwd.state.tx.us
Running of the Sheep by Audrey A. Herbrich
On the last Saturday in September, local West Texan's showcase their idea of "fun" by releasing a herd of sheep in the downtown streets.
---
---
Cactus Hotel Lobby
Photo courtesy Lou Ann Herda, 2001
San Angelo from the 15th floor of the Cactus Hotel
Photo courtesy Lou Ann Herda
The Cactus Hotel
TE postcard archive
---
San Angelo, Texas Forum
I recently purchased a travel book on Texas here in Germany, in which they focused on about five cities in Texas and San Angelo was one of them. They pointed out that San Angelo, in their opinion, is the real Texas, with genuine friendly people, etc. I am very proud of my home!! Take care and best greetings from Hamburg, Germany - Glenn Du Pree, December 2001
---
Texas Escapes, in its purpose to preserve historic, endangered and vanishing Texas, asks that anyone wishing to share their local history and vintage/historic photos, please contact us.
---