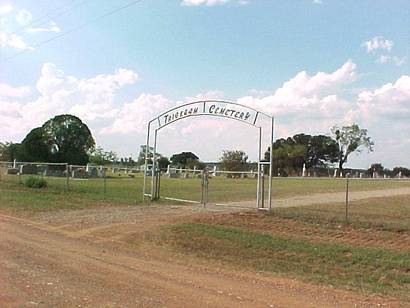 History in a Pecan Shell

If you believe the story about how Trickham got it's name, then this town was a pioneer in "truth in advertising."

Store owner Bill Franks (never trust a man with two first names) used to sell whiskey to cowboys that was actually water from Mukewater Creek. This was before the concept of repeat customers evolved. Mr. Franks was also the one who applied for the Post Office (established 1879) and so his request was for Trickham (Trick 'em). Humor along the lines of Dewey, Cheatham and Howe Attorneys at Law.

Tyro, Texas (also Coleman Co.) probably heard the story and when their post office shut down in 1881 and they needed a name for it to reopen in 1884 they submitted Novice because of the store owner's inexperience.

The Historical Marker states that the town was a "trading post for ranching activities of Cattle Baron John Chisum."

Through the years, Trickham has had good times and bad, and the population has risen and fallen accordingly. The 1970s were particularly bad, for that was the decade Trickham lost their gas station, general store and post office. The reported population was 12 in 1970 and that's where it remains today.

There might be some health benefits from that water from Mukewater Creek after all. Then the joke would be on Mr. Franks.
---
Trickham Chronicles
Trick 'Em and Skin 'Em by Clay Coppedge
The old community of Trickham was the first community in Coleman County to be settled, though today it might be hard for an outside observer to understand why. The U.S. Army chose the patch of land on Mukewater Creek as the site of Camp Colorado in the 1850s but the camp lasted less than a year at that location.

This can be rough country even today, but in the 1850s it was a savage country... more
Marker close-up
Photo courtesy Bruce White, April 2007
Photo courtesy Bruce White, April 2007
Crypt of early victims of a Comanche ambush
Photo courtesy Bruce White, April 2007
Former Trickham School, now a community center
Photo courtesy Jim & Lou Kinsey, 9-04
Photographer's Notes:
Subject: Trickham Union Church
"Don't know that we have ever seen a Church quite like the Trickham Union Church.

Baptist Church on First & Third Sundays
Methodist Church on Second & Fourth Sundays
Union Church Sunday School Every Sunday"
- Jim & Lou Kinsey, September 25, 2004


Subject: Trickham, TX
These are photos of the former town of Trickham, Coleman Co, Texas. My GG grandfather lived and worked around here in the late 1800's. Photos include the historical signs (painted on rocks) and graves of early victims of a Comanche ambush. - Bruce D. White, April 12, 2007
---
Texas Escapes, in its purpose to preserve historic, endangered and vanishing Texas, asks that anyone wishing to share their local history and vintage/historic photos, please contact us.