Farm-sized grain elevator and barn in Willow Springs
TE Photo, 2001
History in a Pecan Shell
Willow Springs dates back to the late 1830s and was once known as Rockhouse.

The builders of the pictured store (below), Frank and Rosina Stanislow, sold it to a C. T. Zapp in 1880. Sometime between 1880 and 1903 the town had its name changed to Zapp.

Tombstones of various Zapps can be found in several northern Fayette County cemeteries. FM 954 connects Willow Springs with Warrenton. Another Fayette County town that was heavily Zapped, was Round Top, which is just a few miles north of Warrenton.

The E.C. Minssen Store, and its predecessors, have served the community for well over 130 years. The present store was once a building moved from Camp Swift near Bastrop when the post was deactivated after World War II. It first went to another location in Willow Springs and we're told it was once a dance hall. After a fire in 1962 destroyed the store, this building was moved in to replace it.

Willow Springs today consists of the store and a few houses and other buildings. The community lost its post office in 1906 and then its school in the 1940s.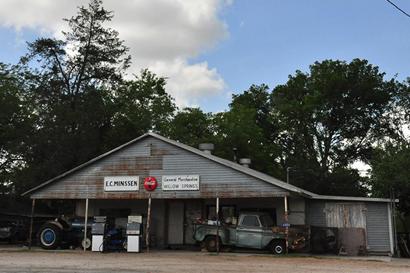 Nearby towns, besides those previously mentioned, include Industry, Bellville, Shelby, and Brenham.

Source: Fayette County: Past and Present, by the students of LaGrange High School, Edited by Mrs. Majorie L. Williams, 1976
---
Texas Escapes, in its purpose to preserve historic, endangered and vanishing Texas, asks that anyone wishing to share their local history, stories, landmarks and recent or vintage photos, please contact us.