Eldridge Cemetery
Photo courtesy Dan Guthrie, 2008
History in a Pecan Shell

Eldridge, located at the forks of North McClellan Creek and McCellan Creek, was named after a Colonel Eldridge, stationed at nearby Fort Elliot. The site was first used as a cantonment supply depot for the Army during the Red River Wars. The first settler lived in a dugout working as a line-rider for the U-U Ranch. Barton and Wynne built a horse ranch on the creek and a mail coach stop was established in about 1888.

Several dugouts were used by travelers at the forks of the creeks in Elfin Grove where the mail coach stop was located. Periodic flooding forced a move one-half mile North to a meadow alongside North McCellan Creek.

Eventually, a U.S. Post Office opened in March 1886. A blacksmith shop and officer's quarters were built along with several tents, dugouts and a shed-stable for the mounts of the officers. After the Indians were removed from the area, all military operations were halted.
Shelton Tombstone
Photo courtesy Dan Guthrie, 2008
The Eldridge Cemetery was established in 1888. Several earlier burials were thought to have been made, but the earliest tombstone is marked 1890 for Janie Woods Shelton, the wife of trail driver Joe Shelton who later became post master. Mysteriously, three-year old O.L. Owen was buried in 1892 with the grave marked with a re-cycled tombstone.

In 1874 Johnson Wartham, a Confederate War Veteran, was buried after dying from Typhoid Fever. Tennie Cupell died in childbirth in 1896, but the baby lived. A twelve-year-old girl, name unknown, was buried in 1896 after dying from a rattlesnake bite suffered while riding on the wagon tongue of their covered wagon. The family camped on the creek for days gathering small white rocks for the grave and planting two cedar trees.
"Johnson Wartham
Confederate War Veteran Died of Typhoid Fever
1894"
Photo courtesy Dan Guthrie, 2008
"Tennie Cupell
1898
Died in Childbirth"
Photo courtesy Dan Guthrie, 2008
Prairie fire destroyed the wooden grave markers in the 1920s leaving some burial sites without markings. Two caskets were removed to the Alanreed Cemetery in 1919. Local citizens keep the cemetery clean, built a few crosses for known graves and erected a metal sign for the entrance.

Today, Eldridge is all on private lands but is viewable to the public from the highway if you know where to look. The cemetery is open to the public on County Road X.

© Delbert Trew
More Eldridge Cemetery scenes
Photo courtesy Dan Guthrie, 2008
"Freeman
Texas Traildriver Killed in Kansas
1891"
"Lewis
Texas Traildriver Killed in Kansas
1891"
Alanreed's Eldridge Cemetery photos courtesy Dan Guthrie, 2008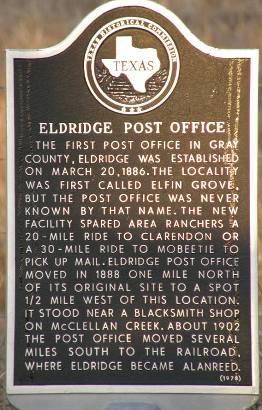 Photographers' Notes:


"I recently visited Eldridge Cemetery near Alanreed. It was hard to find and very overgrown, but after climbing through the high weeds, it was worth it. Although I started with new batteries in my camera, I had only managed to get these few photos when the camera announced low batteries. I'd like to share them with you for Alanreed and Eldridge pages." - Dan Guthrie, September 22, 2008


"Dan Guthrie's did a great job covering the Eldridge Cemetery. Mr. Trew doesn't mention that he is one of the main (maybe the only) caretakers of the cemetery, locating many of its graves." - Barclay Gibson, ,March 02, 2013

Editor's Note: A salute to the people who are maintaining the Eldridge cemetery, thus insuring that those interred are not forgotten. Although the details of their lives have been reduced to a few short words, those simple epitaths reveal the brevity and fragility of life on the 19th Century Texas Panhandle.

Book Hotel Here > Amarillo Hotels | More Hotels

Texas Escapes, in its purpose to preserve historic, endangered and vanishing Texas, asks that anyone wishing to share their local history, stories, and vintage/historic photos, please contact us.
Custom Search