Former store in Hovey

Photo courtesy ErikWhetstone, April 2006
Hovey is here thanks to former resident, Barbara Kipgen, who wrote us. Her letter follows the brief history.

Brief History
Hovey is another of the many Texas towns that is named after a railroad official. In this case it was the Kansas City, Mexico and Orient Railway, the year was 1913 and the official was G.B. Hovey. They got their post office the same year, but it was closed by the 1930s.

Hovey only had an estimated 25 residents and one business in the early 30s. We were unable to find it on the TxDoT County Map for Brewster County. Barbara explains that the reason for this is that the entire townsite is now on private property and is not accessible. The good news is that the Hovey School - the town's pride - is permanently on display on the Fort Stockon grounds.
An old house in Hovey

Photo courtesy ErikWhetstone, April 2006
The Hovey School shortly after becoming a Texas Historic Landmark

Photo Courtesy Barbara Kipgen
In addition to sending us the photo of the Hovey School House, Barbara Kipgen included a description of life on a West Texas ranch. Her mother Edith and Grandmother Lilah Smith are both shown in the photo shortly after the school was dedicated a Texas Historic Landmark. - editor
RANCH LIFE IN BREWSTER COUNTY
Sweeping the yard was the easy part
A typical day of Lilah Smith and Edith Kipgen
As told by themselves and Barbara Kipgen
"Both women have recorded on paper a lot of their experiences on the ranch back in the 30s and 40s. Lilah, doing spring house cleaning [which included] carrying all the mattresses out into a day's sun; washing/ drying all the sheets, etc. and then getting side-tracked by two kids who had "horse trouble." After spending hours finding and retrieving the horse [she came back to] a mess because a rain/wind storm had wiped out the morning's work."

"When Edith was about 10 years old, she began helping her father with ranch work. In her teens, she "broke" and trained about 20 young horses for a neighboring rancher over a six year period."

"Living on a large ranch in those days was not easy. Everything was done the old pioneer way. Although there were cars and trucks - the work was done with horses and wagons. We cooked with a wood fire and had no running water. The water was hauled in barrels on a wagon pulled by mules. We dipped buckets of water and carried them into the house. We had no electricity.

We lived in a clean 4-room house with a fence. The yard was dirt with no grass or shrubs since there was no way to water them. It was swept with a broom about once a week."

"Lilah was a schoolteacher before marrying my grandfather, in Corsicana, Texas. She really missed the trees and vegetation when they first moved to what was the E.L. Ranch in the early 30s.

"There was one scraggly mesquite tree near our bedroom window. At first it was ugly and I wanted it dug up and moved out. No one had time to do that. As time went by, I loved that old tree. It was the only living plant in that yard and it became beautiful."

The Old Schoolhouse - next page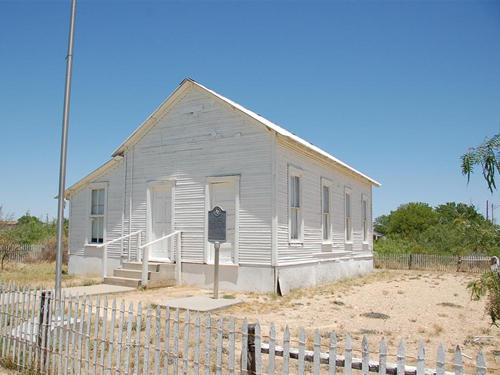 Texas Escapes, in its purpose to preserve historic, endangered and vanishing Texas, asks that anyone wishing to share their local history, stories, and vintage/historic photos of their town, please contact us.
This site for Hovey, Texas sponsored by: Barbara Kipgen 7/01 $50.