From "Eighteen Ghost Towns of Runnels County" by Alton O'Neil Jr.

In 1900, the heirs of John Harris of Galveston offered for lease a league of land in the southeast part of Runnels County. This area was to become known as the Oxien Community. On July 27, 1905 a post office was opened with W.W. McKissack as postmaster. The mail was brought from Talpa three times a week at first; when the town grew the mail was brought daily.

At one time Oxien consisted of a cotton gin, a general store with post office, a telephone switchboard, and a filling station. In later years an another store and filling station were opened. Oxienís school was built in 1909. In 1913 the Oxien school and the Dietz school consolidated. The combined school was relocated on the Jarm Morrison place. In 1920 a larger building was erected. After this the school was know as the Dietz School District No 31. In 1930 this school was consolidated with Crews. In the early days church was held in the school house. In 1924 the Baptist Church was organized and a building built. It disbanded in 1937. The post office closed in 1913. The town site is marked with a few brick and rock foundations.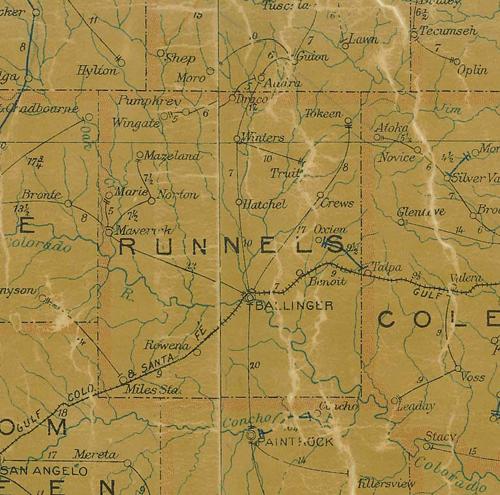 Runnels County 1907 postal map showing Oxien
NE of Ballinger the county seat
From Texas state map #2090
Courtesy Texas General Land Office
Texas Escapes, in its purpose to preserve historic, endangered and vanishing Texas, asks that anyone wishing to share their local history, stories, landmarks and vintage/historic photos, please contact us.