The Old Nueces Bridge now sits in the cemetery
Photo courtesy Barclay Gibson, August 2011
Valley Wells History in a Pecan Shell
Although Valley Wells remains on the map - there's nothing left of the town.

The cemetery contains less than 40 graves.

The name refers to the artesian wells once found here. A visit in November of 2001 found a spring still bubbling forth a good flow of water between the cemetery and the Nueces River.

Three members of the McCarley family died in 1936.

Dimmit County had several settlements between 1909 and 1917. About 1909 the Texas Land and Loan Company started selling off 10,000 acres of land in small parcels. They advertised the settlement nationwide as the "Good Luck Colony".

The company made no improvements and sold the land based on the promise of the abundant water. Many of the buyers came from Oklahoma.

A post office opened in 1914 and by 1915 the town had seventy-five residents.

At the time the post office was granted the company name was dropped in favor of Valley Wells.

Valley Wells suffered through hard times. A period of low crop prices between 1916 and 1918 was followed by a crop-destroying hailstorm.

By 1925 the population was only ten persons and in 1940 there were twenty-five residents and a store.

Salt had eaten through metal pipes encasing the water wells, and the farmers had unknowingly been irrigating the fields with salt water. By the late 1940s the land was barren.

It is reported that there were only 3 families in the early 50s and today it appears that there is only one.

Valley Wells, Texas Forum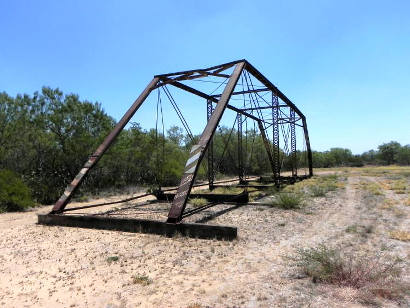 The Old Nueces Bridge - "Built in 1909 by an iron company in Iowa"
Photo courtesy Barclay Gibson, August 2011
A cement marker in the Hispanic section of the cemetery
TE Photo, November 2001
Big Wells' Sal A. Armstrong and son Sal Alvin Armstrong, Jr. in Valley Wells in November 1922.
Photo courtesy Bill Armstrong
Valley Wells, Texas Forum
Subject: Big Wells & Valley Wells, Texas
In 1950, my family moved to Big Wells, Texas, and my father was pastor of the First Baptist Church at Big Wells. We had three of the best years of our lives at Big Wells. While there, my father and our family went to Valley Wells on Thursday evenings to hold prayer services in the old Valley Wells School. I remember some of the families that attended the service: Don Noah (see correction) and Wanda Noah, Don and Charlotte Noah, Alton and family, the Henderson family, and I believe that Charles Rasmussen and family sometimes attended services. There was no piano or musical instrument, so we sang acapello. The service was not long but the people were sincere and were very kind to our family. I remember seeing many deer and some javelina hogs, road runners, turtles, and pheasants. The big problem during those years that plagued the farmers was lack of rain and the wells ran dry. The cattle had to eat the mesquite trees and the farmers burned the needles off the cactus so the cows could eat those. My father led the way to building the new church at Big Wells and it was very nice for the town. I could go on telling tales all day, but I will just say that we loved it there and the people are still the best people in the world! - Charlotte Ann Wyatt Rickenbaker Woodard, July 29, 2011
Subject: Valley Wells Correction
That was Thomas, better known as Tommy and Wanda Noah. - January 27, 2015


Subject: Nueces River bridge in the Valley Wells Cemetery
When I was a kid, there was a metal sign on the Nueces River Bridge in Valley Wells. The sign stated that the bridge was built in 1909 by an iron company in Iowa. Someone pried the sign off in the 60s. The bridge was replaced in 2001. There was talk about moving the old bridge to the park in Carrizo Springs. I do not think that the County wanted to pay the cost to transport it that far and left it in the cemetery.

I am going to question your statement about finding a flowing spring in Valley Wells. The current water table is 300'. Thanks - Tom Nuckols, Land owner in Big Wells and Valley Wells, June 23, 2004



Texas Escapes, in its purpose to preserve historic, endangered and vanishing Texas, asks that anyone wishing to share their local history and vintage/historic photos, please contact us.
Custom Search