---
---
---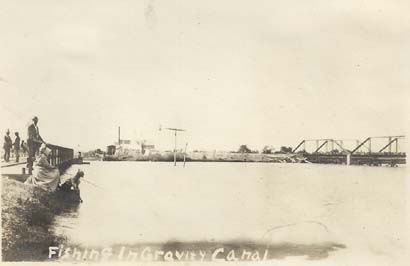 History in a Pecan shell

In 1904 the San Benito Land and Water Company was formed

1907: Lots are sold.

A post office was opened under the name San Benito. According to the Handbook of Texas - the town was first called Bessie, after the daughter of Benjamin Franklin Yoakum, a St. Louis, Brownsville and Mexico Railway official. The name San Benito was an invention of Rafael Moreno, who combined the given names of Benny Hicks and Sam Robertson. Sam became San and Benny became Benito.

1915-16: San Benito was a base camp for Oklahoma, South Dakota, and Tennessee National Guard troops.

1916: The train to Brownsville was derailed at Olmito - ten miles south of San Benito.

San Benito was a major shipper of citrus fruits and vegetables. The last citrus-packing facility was said to have closed after the freeze of 1983, but produce delivery continues - at least locally.

The Community-owned Dolly Vinsant Memorial Hospital, was named for Lt. Wilma R. (Dolly) Vinsant Shea, an army flight nurse, killed over Germany in May 1945.

The Stonewall Jackson, a former hotel, is now in used as a retirement home.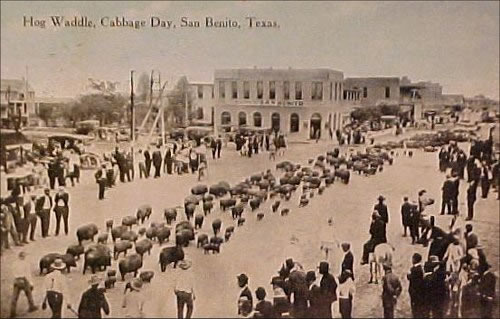 "Hog Waddle, Cabbage Day, San Benito, Texas"
Postcard courtesy www.rootsweb.com/ %7Etxpstcrd/
"Dolly Visant Memorial Hospital, San Benito, Texas"
Postcard courtesy www.rootsweb.com/ %7Etxpstcrd/
"Public Library, San Benito, Texas"
Postcard courtesy www.rootsweb.com/ %7Etxpstcrd/
Samuel Arthur Robertson

by Mike Cox ("Texas Tales" column)
[Robertson founded] the city of San Benito and later supervised construction of an irrigation system capable of watering 68,000 acres. He also built a system of rail feeder spurs across the Valley and established the area's first ice plants to facilitate the shipment of produce from the farms that sprang up because of the irrigation network he helped develop. While he was at it, he served as San Benito's first postmaster and twice as sheriff of Cameron County... more
Queen Citriana Betty Jo Knox
Photo courtesy Cruse Aviation
Flying into San Benito, 1946
Photo courtesy Cruse Aviation
---
Texas Escapes, in its purpose to preserve historic, endangered and vanishing Texas, asks that anyone wishing to share their local history and vintage/historic photos, please contact us.