---
---
---
Jot M Down Store & owner James Richard Wilcox prior to 1959
Photo courtesy John Poulsen
More Texas Churches
History in a Pecan Shell

Named after early settlers Samuel Losson CARAway and DAN Bush, the community dates from the 1880s.* The name was submitted for a post office which was granted in 1889 when only fifteeen people lived here. By 1930 the population had (nearly) doubled to twenty-nine. It reached its high-water mark in 1950 with seventy-five Caradanians but twenty years later the town had only eighteen people left.

The post office closed its doors in the mid-1970s.

The cemetery is all that is left of Caradan.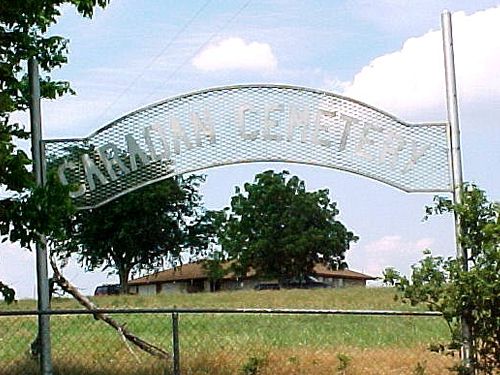 Caradan, Texas Forum
Subject: The church in Caradan
My family, at one time long ago, lived in Caradan and some of my siblings attended school there (I did not). This was a little before my time, probably in the mid to late thirties. I do not know much about Caradan but am seeking information. I am sending the photo [above] of a church building that my dad built there in 1932. I understand that this building was, at some time later on, sold to a farmer and was moved to a location several miles north of Caradan and that was used for storage of feed for cattle. Do you have any information on this or tell me where I may go to find info. My dad's name was Knox E. Reed and my mother's name was Lillie Belle. - Jimmy Reed, Pflugerville, Texas, March 22, 2007
---
Mills County 1940s Map showing Caradan
Courtesy Texas General Land Office
Texas Escapes, in its purpose to preserve historic, endangered and vanishing Texas, asks that anyone wishing to share their local history and vintage/historic photos, please contact us.
---