---
St. Louis Catholic Church Historical Marker:
St. Louis Catholic Church
Planned, according to tradition, by the Rev. Peter Richard, pastor who came from Loire, France, 1868. First (1847-51) resident pastor, the Most Rev. Claude Dubuis, returned as Bishop of Texas to lay cornerstone on July 2, 1868. Locally quarried limestone and labor of men of Parish went into the construction. First Mass was celebrated in this church by Father Richard on Aug. 25, 1870, Feast Day of St. Louis, Patron of the Parish.
Recorded Texas Historic Landmark, 1970.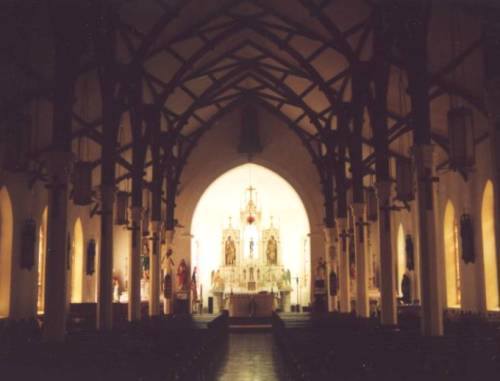 St. Louis Cemetery Historical Marker:
St. Louis Cemetery
This cemetery has served the Parish of St. Louis Catholic Church since the founding of Castroville in 1844. The original burial ground is outlined by the stone wall, which was built in 1860. The earliest marked grave is that of Katharina Haldy (d. 1849), who had migrated to Texas two years earlier. Also buried here is Amelia Castro (d. 1871), the wife of Henry Castro, who founded the town. The marble and granite altar was dedicated in 1951. An annual prayer service and Mass is conducted here each November 2, in honor of All Souls' Day.
1980
---
---