No more rooms for rent
John Shaver home/hotel
Photo courtesy James E Bridges, May 2010
Good old New Corn Hill

by Clay Coppedge
Maybe you have been to New Corn Hill and thought you were in Corn Hill, or Cornhill depending on your spelling preference and which map you're using. What some people think of as Corn Hill is really New Corn Hill, the place on FM 1105 where rolling pasture and prairie converge at the beautiful and historic Holy Trinity Catholic Church... more
History in a Pecan Shell

In 1855 a Judge named John E. King built his residence atop a topographical feature called Corn Hill. The house served as a stop for the stage line connecting Georgetown and Fort Gates and a post office was granted the same year of 1855.

The town had an uneventful history until the 1870s and 1880s. The first store was opened in 1869 and a gin two years later. In 1884 Corn Hill the town had 250 people with two mills, a Masonic lodge, three gins, a newspaper, and the Corn Hill Academy.

By 1896 the population was 350 in 1896 and the town's high-water mark came around 1910 when an estimated 500 people lived here.

The Bartlett and Western Railway bypassed Corn Hill, and the town of Jarrell was established alongside the rails. Corn Hill received a death blow during the period 1910 to 1920 when all the people and most of the buildings (including the post office) moved to Jarrell.

Today only a few buildings still stand. The old city cemetery is less than a mile east of what had been the town. It offers a sweeping view of the countryside and a distant view of the church at New Corn Hill.

See 1907 Postal Map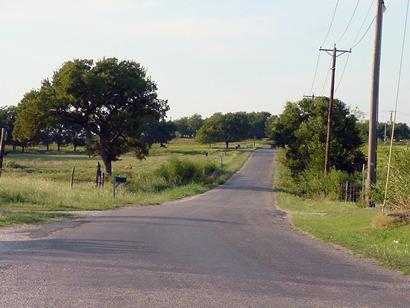 The road to Corn Hill
TE Photo, 9-04
Historical Marker Text
Corn Hill Community
Settled primarily by settlers from Texas and southern states, Corn Hill was one of the earliest communities in Williamson County. John E. King, county judge from 1858 to 1860, named it for the home he built on a hill and nearby cornfield in 1852. The dispersed agricultural community was the first stop on the stage line running from Georgetown to Fort Gates (Coryell County).

A post office opened in 1855 and by the 1860s, an influx of new residents settled here. In 1878, George G. Grant established corn Hill Academy Male and Female School, built on land donated by Judge King. It thrived and in 1886 moved to a new two-story building with four classrooms, a bell tower and an auditorium, which provided meeting space for local church services. By 1893, a public school opened as part of Corn Hill Independent School District.

By the end of the 19th century, Corn Hill had a saddle club, several churches, two locl cotton gins, Corn Hill College, fraternal lodges and school organizations. By the early 1900s, community residents became active in Populist politics and in the Farmers' Union. Industrial activity of the early 1900s included the Corn Hill and Gravis Telephone Company and a waterworks; a planned interurban to Bartlett never materialized.

The settlement began to decline in 1909 when the Bartlett Western Railway bypassed two miles to the north, establishing the town of Jarrell. Steam engines helped move homes and businesses to the new townsite, and other moved to the village of New Corn Hill, but many residents chose to remain here. Today, the dispersed Corn Hill settlement survives as a reminder of the area's early agrarian heritage.
(2007)
Corn Hill Cemetery
TE Photo, 9-04
One of a few remaining buildings in Corn Hill
TE Photo, 9-04
Corn Hill Community historical marker
Photo courtesy Wayne Ware
Corn Hill Area Hotels:

Austin Hotels
Georgetown Hotels
More Hotels
Corn Hill, Texas Forum
Subject: Old Corn Hill (Texas Ghost Towns)
As a direct descendant of John Shaver, I have also photographed the deteriorating Shaver home/hotel (in the photo provided by James Bridges) through the years. I am always relieved to find it still standing on each return visit! My Corn Hill families (Shaver, Biles, Haralson, Buchanan, Robbins and Frasier) all eventually lived in Jarrell and Georgetown. I have visited the old Corn Hill cemetery at least twice a year my entire life, and am glad to see that it is still well maintained. I would very much like to see more stories and photos from those with Corn Hill connections or interest. - Linda Petty, May 19, 2011


Subject: Corn Hill - Ghost Town
Just bit of additional information: B F Bridges is my gGrandfather. B F is Benjamin Franklin. He was a confederate soldier from Missouri, serving as a teamster and was captured and interned in Arkansas. He moved to Texas and married Penelope Ake. The Akes lived in Willis Creek, exact location unknown. I cannot find any records of a community by that name although the creek obviously exists in the Corn Hill area. I know very little about the old family as that was well before my time and I cannot remember any conversations about those times. There is a small Ake Cemetery nearby that I have not yet located. - James E Bridges Lt Col USAF (ret), Austin, Texas, November 06, 2010


Subject: Ghost Towns
Recently I was given a printout from your article relating to the Corn Hill area of Central Texas. I am writing today, as after viewing some of the pictures you provided, it brought back memories of my early days.

You see, I along with my sisters were reared in that Catholic Community, attended parochial school there, as well as some of us married in the large Church that still stands today, as well our Grandparents, Aunts and Uncles as well as many other members of the family and friends, that now, lie buried in the very same Cemetery you show in the pictures. I still have one surviving Uncle that lives to this day, directly across from the large Catholic Church and would be directly across from the few remaining buildings that you once again featured in your article.

Oh yes, many memories, of the first Grocery Store that was just off the road, where I watched my first "World Series game between the Dodgers and Yankees. That would have had to be somewhere around 1950's. I also remember going to the Church activities as well as annual celebrations just below the hill at a place called "Moravian Hall". It was a two story structure, with a stairway leading upstairs to a wooden dance floor. Downstairs was reserved for Bohemian Taroks, Dominoes as well as refresments and delicious cakes pies kolaches sauage barbecue beer and much much more. Wonderful times, those ole days, and miss the greatly. My sisters as well as myslef still make our trips to that erea as often as we can, as most of our classmates and friends reside either in that area still, or the Austin, Texas area. My Mother and Father were buried there on top of the hill under the large oak trees just south of what use to be a ballpark. I playd ball there when I was in school, but my Father also spoke of the "big games" they had in a ballfield a bit farther down to the right. The school and most all, as you mention, are almost all gone, but the memories of the Catholic Nuns that gave us our early education and Christian way of life, still remains with us to this day. I will attempt to visit my Uncle within the next couple of weeks, as he will be celebrating his 103rd or 104th Birthday this year.. He has great knowledge of that entire area and lives alone, with the help of his Son.

I hope to share some other things, now that I know how to locate you, and thanks for the great work you are doing to preserve all that is so precious to all of us, as we age along with everyone else. Oh by the way, my one sister lives in Temple, Texas, while the other lives in Houston, Texas. Thanks again. - William (Bill) Knapek, Houston, Texas 77040, Age 63, May 02, 2006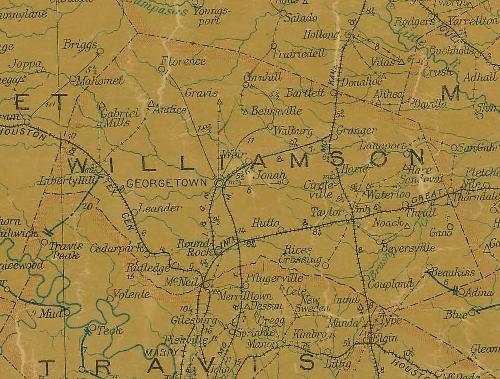 1907 Williamson County Postal map showing Corn Hill
(Above "A" in "WILLIAMSON", East of Bartlett)
Courtesy Texas General Land Office
Texas Escapes, in its purpose to preserve historic, endangered and vanishing Texas, asks that anyone wishing to share their local history and vintage/historic photos, please contact us.
Custom Search