KATEMCY, TEXAS
Mason County, Texas Hill Country
FM 1222 a mile East of Highway 87
12 miles N of Mason
Population: 90 (2000)
"Photo of my dad Kenneth Hill in 1925. He is with his horse "Prince", his dog "Shep" and his .22 rifle." - Brian Hill
More Vintage Photos
History in a Pecan Shell

According to legend, early settler Andy Coots had a community named Cootsville in his honor. Anything had to be better - even if it was named after a Comanche chief.

John O. Meusebach, famed German negotiator with the Comanches is said to have signed a treaty with Ketemoczy, a Comanche chief sometime around 1847. Anglo-Americans built close to the Germans by the mid 1870s and by 1880 the town was thriving.

John, Elias, and Alfred Cowan built a sawmill, gristmill, and cotton gin. The post office was opened in 1884 in the store of Alfred Cowan. Cowan had jokingly applied for the name Hammerville because of the constant sound of construction - but this was rejected and the name Katemcy submitted and accepted.

In 1883 Picket School was opened when Baptist minister Lawson Jones donated the land. The name was later changed to Friendship School. When the building was no longer needed - it became the Friendship Baptist Church.

Inexpensive land and abundant water drew people from other communities and the population was estimated around 150 between 1900 and 1904.

Katemcy's decline began in the mid 1920s. The population fell to 100 and rural schools consolidated with those of Mason in 1945.

From the late 60s through the mid 80s the population estimate was 162 which has further declined to less than 100.

Where to Stay - Katemcy, Texas Area Hotels
Fredericksburg Hotels
Katemcy Chronicles
Katemcy by Mike Cox
Early-day Texans and Comanches were not always trying to kill each other, it just seemed like it...
Lehmann Show by Mike Cox ("Texas Tales" Column)
When Fred Gipson's family went to an old-settlers reunion and fair at Katemcy to see the aging Herman Lehmann put on a one-man exhibition, the Mason County youngster got a taste of the old west far more realistic than anything he ever saw in a Tom Mix movie...more
Katemcy Texas Forum
Subject: Katemcy, Texas Photo
The picture was taken while he lived in Katemcy. Not sure how long the family lived there. I know they moved to Mountaire, New Mexico by the 1930. If you have any other information about the Hill Family that would be great. - Brian Hill, January 02, 2011


Subject: Katemcy Texas
The information you have listed for this Texas town is erroneous on two points. The "early settler" was Andrew (Andy) Jackson Coots, not "Coot"--hence the name "Cootsville". He did not deplore the name of the settlement as you opine. Mr. Meusebach and other German settlers made unilateral decision to change the name of the town.

Andrew (Andy) Coots was my mother's (Charlotte Laverne Coots) great-grandfather and he and his brothers are listed among the first landowners in the Republic of Texas -- having first owned land in counties in Northeast Texas and then moved south and west to Katemcy. Andy's wife, a woman not 5 foot tall, often sat by the door of their small wood cabin with a hatchet to protect the family from Chief Katemoczy's warriors. Andy's son Charles Coots married a member from Chief Katemoczy's tribe -- her name was Lara Bell Watts. Charles and Lara were my mother's grandparents. Several of our relatives are buried in the cemetary at Katemcy and at the cemetary in Brady, Texas. The treaty with Comanche Chief Ketemoczy was signed around "1847"-- not "1947" as you list. Thank you. - Kim LaRocca, February 03, 2006

Katemcy, Texas Area Hotels > Fredericksburg Hotels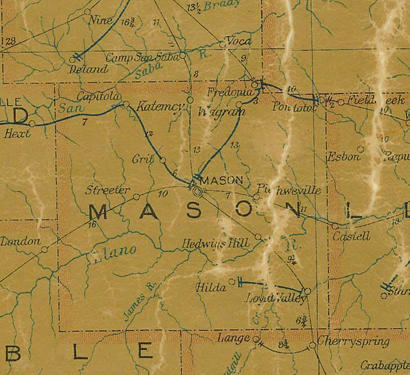 Mason County Texas 1907 Postal map showing Katemcy
(Above "S" in "MASON")
Courtesy Texas General Land Office
Texas Escapes, in its purpose to preserve historic, endangered and vanishing Texas, asks that anyone wishing to share their local history, stories, and vintage/historic photos, please contact us.
Custom Search
Book Hotel Here - Expedia Affiliate Network