Fredericksburg, Texas Topics:
History in a Pecan Shell
Named in honor of Prince Frederick of Prussia, Fredericksburg had been the inland destination of the German immigrants who came to Texas through the port of Indianola. John O. Meusebach left New Braunfels in the summer of 1845 to survey the area with the first 120 settlers arriving the next spring.

The trip which now takes an hour took the settlers 16 days.

After the town was platted, each family settler received a town lot and ten acres outside of town. plan was a replica of the villages back in Germany. The earliest houses were log cabins that were soon replaced with Fachwerk buildings.

Despite an epidemic that killed a tenth of the settlers, Fredericksburg soon had a respectible population of nearly 1,000. A road was built connecting Fredericksburg and Austin; and John Meusebach brokered a successful treaty with the Comanches.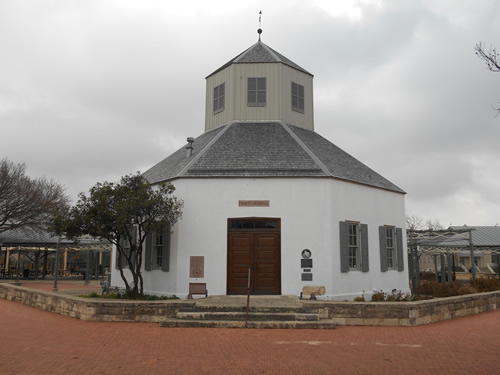 Frederickburgs most important building was the Vereins-Kirche. Before it was razed in 1897, the structure had served as fort, church, school, and town hall. Restored in 1936 for the Centennial, the replica building now serves as offices for the Gillespie County Historical Society.

Religious services had all been held in the Vereins-Kirche, until 1848 when Catholics built their own church.
Photo Courtesy Shannon Yarbrough, May 2005
The United States Army established Fort Martin Scott, which became a boon to the local economy. Once cannibalized for its building stone, the fort is now defined by a reconstructed building - with more planned. Soon after the Texas legislature made Fredericksburg the Gillespie county seat.



The Forgotten Indian Traveler by Mike Cox
The men were Richard Irving Dodge, a young Army officer who would serve in the military for 41 years and John Conner, a noted Delaware Indian. The meeting happened at Fort Martin Scott...

Thirty years went by before Dodge got around to writing about his experiences at Fort Martin Scott in his classic book, "The Wild Indians."

The first newspaper appeared (in German) in 1877, and it wasn't until after 1900 that were the first purely English-speaking teachers employed in Fredericksburg's public schools.

The first Gillespie County Fair (also believed to be the first in Texas) was held at Fort Martin Scott in 1881. By 1904 the population was 1,632. The San Antonio, Fredericksburg and Northern Railway, arrived in November of 1913. The railroad later became the Fredericksburg and Northern and stayed in business until WWII.

In 1928 citizens voted to incorporate. Up until then Fredericksburg had been the largest unincorporated town in the United States. It participated in a census for the first time in 1930 (giving a number of 2,416).

Fredericksburg became the counties manufacturing center and local quarries supplied both granite and limestone. The Gillespie County Historical Society was founded in 1934 to preserve local history and traditions.

Another historic building is the former Nimitz Hotel - the boyhood home of Admiral Chester Nimitz, Commander of the Pacific Fleet during WWII.
Fredericksburg, Texas
Landmarks / Attractions
The Fredericksburg Historic District was added to the National Register of Historic Places in Texas on October 14, 1970.
The 1882 Gillespie County Courthouse now used as the Gillespie County Library.
Photo Courtesy Shannon Yarbrough
The Former Gillespie County Courthouse c.1882

On the Public Square near the current courthouse.
Designed by Alfred Giles, English Architect turned Texas Sheep Rancher
"...with its formal balance, heavy decorative consoles, and Classical roof slopes, [it possesses] the dignity characteristic of Renaissance Revival buildings." - Williard B. Robinson, Texas Public Buildings of the Nineteenth Century
---
The 1885 Gillespie County Jail in Fredericksburg
Photo courtesy Michael Barr, January 2021
The Jail Wall
Photo Courtesy Shannon Yarbrough, May 2005
---
Authentic cabin relocated to Pioneer Museum Complex on Main Street
Courtesy of Sandy Fiedler
From
"Blending German Colonization with Modern Tourism " by Sandy Fiedler:

"Today Main Street shows off dozens of marvelous shops for collectibles, antiques, crafts, etc. There are German restaurants, beer gartens, and bakeries (with shortbread, baked meringue, kolaches). The pleasing scents of candles fill the nostrils. Unobtrusive doorways lead to mysterious courtyards. Many of the ubiquitous historical markers are noticeable only if you are on foot in this understated, rich historical district. Churches stand all over the town like watchtowers of strength."
Admiral Nimitz State Historic Site - National Museum of the Pacific War
P O Box 777
Fredericksburg TX 78624
830/997-4379
Courtesy of Sandy Fiedler
"On Main Street is the Admiral Chester Nimitz Museum and Historical Center. Fredericksburg is proud to be the birthplace of Nimitz, Fleet Admiral of the Pacific Forces in World War II. This museum is part of the National Museum of the Pacific War with the new George Bush Gallery.

"There are many bed and breakfast establishments and motels-there are no bad places to stay in Fredericksburg," voiced one resident. "Everything is clean and safe."

...You can regain a sense of what it used to be if you start with a tour of the Pioneer Museum Complex on Main Street in Fredericksburg.

A Founders' Day Festival is held there every May."

© Sandy Fiedler
---
Photo courtesy Texas Transportation Museum in San Antonio
Photo courtesy courtesy Gillespie County Historical Society
Marienkirche (Old St. Mary's Church)
Photo Courtesy Shannon Yarbrough
Marienkirche (Old St. Mary's Church) c. 1848

Built under the direction of Benedictine priest Peter Baunach, the church was built by its members.

According to architectural historian Williard B. Robinson, "the aisles were paved by soapstone flagging, but the floor under the pews was covered with sand."
Hohenberger Homestead
Another example of German masonry.
Photo Courtesy Shannon Yarbrough, May 2005
Stone walls remain as noteable landmarks for Fredericksburg.
Photo Courtesy Shannon Yarbrough, May 2005
A Coca Cola sign in Fredericksburg
Photo courtesy Shannon Yarbrough
Fredericksburg's Post Office Mural "Loading Cattle" by Otis Dozier, 1939
Photo Courtesy Shannon Yarbrough, 5-2005
More Post Office Murals
Fredericksburg Chronicles:
---
---
Fredericksburg, Texas Related Stories
Fredericksburg Area Natural Attractions
Photo by Michael Barr, August 2018
Claygate, April 14, 2006
Wikimedia Commons
Texas Escapes, in its purpose to preserve historic, endangered and vanishing Texas, asks that anyone wishing to share their local history, stories, landmarks and recent or vintage photos, please contact us.