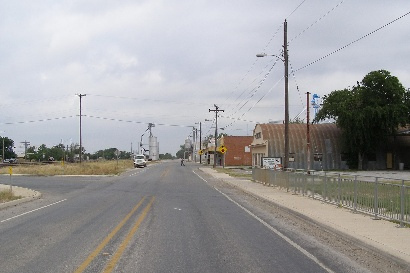 History in a Pecan Shell

Shortly after the Galveston, Harrisburg and San Antonio Railroad laid tracks into the area, one George Knippa moved his family to the railroad siding that was called Chatfield. Our source The Handbook of Texas gives no explanation of this name – perhaps it was a description of how the people entertained themselves in an agricultural area. George had been to Uvalde County and was impressed with how verdant and bountiful the land was.

He convinced his family to leave their home in Fayette County and move west.

Of course fate couldn't resist making a liar out of Mr. Knippa and a drought soon appeared that sent most of the settlers back to where they came from.

A post office was opened in Knippa in 1898. Small amounts of gold were found in the area and a gold mine was opened west of town – but it soon proved too costly to remove the miniscule amounts of gold. Instead the railroad used the abundant traprock for its roadbed.
(See Knippa Trap Rock Plant Historical Marker)

The material is still mined today and the main gates of the quarry open onto Highway 90. This is part of the operation that mines asphalt south and west of Uvalde.

In 1900 Knippa had a one-room school, which was expanded to a two-room building by 1907. The population was a mere 50 people in 1914. A directive prohibiting the speaking of German was instituted when the US entered WWI. This seemed unfair, unnecessary and uncalled-for to the German-speaking townsfolk and they took the matter all the way to the U.S. Supreme Court. The court agreed.

A Reverend Rubottom ministered to the Baptist flock in Knippa in 1915.

Knippa Landmarks & Historical Markers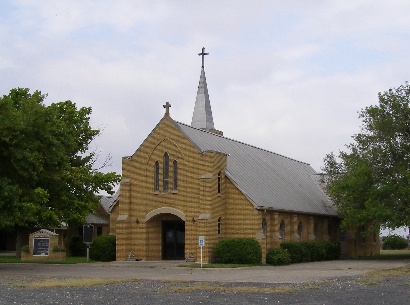 Emmanuel Lutheran Church historical marker
Photo courtesy William Beauchamp, June 2012
Knippa Trap Rock Plant Historical Marker
TE Photo, June 2001
The Bridge Just West of Knippa
TE Photo, June 2001
More Texa Bridges

A water drilling rig in Knippa
TE Photo, 4-04
Custom Search
Book Hotel Here - Expedia Affiliate Network