MIAMI, TEXAS
"The Sweetheart of the Plains"
Roberts County Seat, Texas Panhandle
US 60
FMs 283 and 748
23 miles NE of Pampa
79 miles NE of Amarillo
20 miles SW of Canadian
Population: 540 (1990)
South Main Street in Miami
Photo courtesy Terry Jeanson, March 2008
History in a Pecan Shell

The name Miami is said to have been Algonquin for "sweetheart" hence the motto. "Sweetheart of the Plains".

We were unable to discover why an Algonquin word would be in use in the wilds of Texas - but it is known that words are transported. Squaw, papoose and wampum (we are told) were words from East Coast tribes that traveled west with the settlers.
A timeline of significant dates in Miami's history
1879: town begins as a humble half dugout stagecoach stop between Mobeetie and New Mexico.
1887: town was platted
1888: population rises to 250 with all the amenities of a thriving town
1889: Roberts County was organized and declared county seat - but the election was contested and Parnel became county seat until 1898.
1894: first newspaper comes out - the Weekly Echo
1898: County Seat moved from Parnell
1907: bank opens
1910: schools open
1915: population reaches 700
1923: first Roberts county fair is held
1930s: library started in the courthouse basement
1968: a tornado destroys the Miami High school

The Roberts County Courthouse > next page
A simple, but stately brick building built 1913

Area Hotels - Book Here & Save
Pampa Hotels
Amarillo Hotels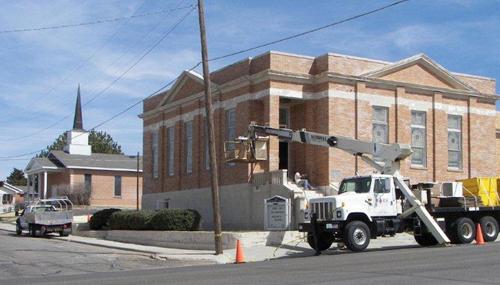 Buildings along US 60 in Miami
Photo courtesy Terry Jeanson, March 2008
"The Santa Fe Depot in Miami was erected in 1888 and served until 1978. It was moved a short distance to its current location along US 60 and now serves as the Roberts County Museum."
- Terry Jeanson, March 2008 photo
More Texas Depots | Texas Museums
Miami Attractions
The Roberts County Museum: In the restored Santa Fe Depot

Miami has a cow calling contest each June in the city park.
Please don't write and ask what becomes of the cows that show up.

Miami Local Information
City Hall: 806-868-4791

Book Your Hotel Here & Save
Pampa Hotels
Amarillo Hotels
More Hotels