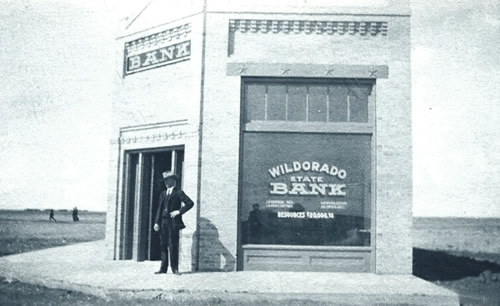 History in a Pecan Shell

Named for nearby Wildorado Creek, Wildorado became a town in 1900 when it was marked as a planned stop on the Chicago, Rock Island and Gulf Railroad survey.

A post office was granted in 1904 and the railroad (finally) reached the town in 1908.

A bank, hotel and newspaper soon followed. In 1915 Wildorado was thriving with a population of 100, and the requisite stores, churches and schools.

In the late twenties and thirties, Wildorado was tortured by sandstorms and droughts.

The rowdy element of some Panhandle boomtowns saw Wildorado as an easy target and banks and stores were robbed.

By 1936 Wildorado's population dropped to a mere 57, but by 1947 it had increased to 125.

Construction of Interstate 40 brought the population up to 210 by 1957 and a water corporation in the mid 70s established a dependable water supply and irrigation wells.


Wildorado, Texas Landmarks:
Wind farm near Wildorado
Photo courtesy Tom Jones, 2007
Wildorado rural scene
Photo courtesy Tom Jones, 2007
Scenes near Wildorado
Photo courtesy Tom Jones, 2007
Texas Escapes, in its purpose to preserve historic, endangered and vanishing Texas, asks that anyone wishing to share their local history, stories, landmarks and recent or vintage photos, please contact us.